System 7
Live at Close Up 2


Chicago, IL
July 20 & 21, 2007
Story and Photos by James Walker

Close-up 2 is becoming recognized as THE smooth jazz club in Chicago. Located at 416 South Clark in the south loop. One can always count on an exciting evening of entertainment each and every weekend.

During the weekend of July 20th and 21st, this writer caught an exciting unknown group there by the name of System 7. Upon entering the room, and recognizing two of the four members, it was becoming obvious that this wasn't just another smooth jazz group. Led by one of Chicago's finest drummers, Derrick Henderson, this listener was immediately took a seat up front near the band stand even though his intentions were to enjoy the music as a patron not a critic. In addition to Derrick, prominent Chicago bassist Will Howard was also part of the fine aggregate. Will is one of the hardest working, bassist around and can be seen throughout the Chicago area performing with many different groups. This writer last saw bothWill and Derrick performing with several groups during CU2 smooth jazz festival in June( See Review dated June 22-24 on this website).

This night, Andre Henrig on the keyboard and Milton Wave on the sax rounded out this ensemble. Friday night's set was highlighted by the surprise guest appearance of Chicago's finest trumpet player, Cory Wilkes.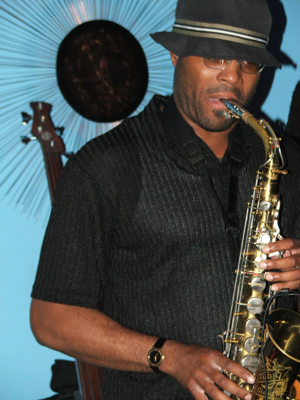 Cory has such a love for his craft that he often appears unannounced at clubs around town to join with other groups. Cory was also accompanied this evening by one of his young proteges, Keven Nabas. Things got so hot their last set that pianist Bethanegn Pickens, sitting in the audience could not restrain herself and had to jump in to "Get a piece of the action". What a set!!! The jam session was enough to encourage this writer to return the next evening for a full review.

Saturday's session got off to a slow start. Upon arriving at CU2 with the intent of a full review, it became immediately apparent that something was lacking from the previous night's set. Drummer Derrick Henderson was no where to be found. Although Will Howard and the fellows were doing an excellent job, without the explosive Henderson, it was not the same as the previous night.

While on break, Henderson arrived to the pleasure of all assembled. What a difference he makes to the success of this fine band.

They opened the 2nd set with Gill Scott's "Golden". Saxman Miltan Ware soloed on this beautiful ballad. The unknown Ware is so "cool" when he's playing. He pretty much stands in one position, wearing dark shades with a cap pulled down, and just blows up a storm.

Throughout the 2nd set each member was given ample opportunities to demonstrate their skills, but it was the quick hands and instruments of Drummer Derrick Henderson that had the crowd on it's feet constantly asking for more. One has to see Derrick fronting his band to really appreciate his talent. He has two of the finest hands on the drums this writer has ever seen. He's able to rapid fire drum while still maintaining melodic ingenuity. It's a sight to behold. He was just awesome.

Bassist Will Howards displayed his creativity on a Michael Jackson tune while playing both electric bass and electric upright interchangeably. This writer hadn't previously seen such a demonstration and was very impressed with such originality.

The fourth member of this group, keyboardist Andre Henry played throughout the evening with a vibrant spirit that was reminiscent of the late Billy Preston. This young man can really play. During one segment, it was infectious to see his interaction with Henderson. They went back and forth...challenging one another and obviously enjoying each moment of this display.

What an evening. The sheer energy, exuberance and spirit of this group was felt throughout the room during the 2nd set. System 7 is definitely a group that will be heard from in the future. This writer highly recommends them.

Live smooth jazz is played at CU2 each Thursday-Saturday. Check out their website for details (closeup2jazz.com)
Check out other recent concerts reviews and photos

Contact Brad Walseth and JazzChicago.net at bwalseth60@aol.com