Ghalib Ghallab
Live at the Backroom


Chicago, IL
Sunday July 15th, 2007
Story and Photos by James Walker

Sunday July 15th, Ghalib Ghallab was near the end of another 2 week gig at the historic Backroom on the north side of Chicago. Ghallab is a Chicago native who relocated to Las Vegas about 10 years ago and has been performing at Caesar's Palace Lounge on the Strip. Ghallab is a fine keyboardist with a beautiful tenor voice and started this set with a great jazz standard, "Song for Father" by Horace Silver. That tune just happens to be one of this writer's all time favorite standards and Ghallab did not disappoint. During this rendition he seamlessly infused a nice salsa/samba beat. This was very well done.

Ghalib was joined this evening by saxophonist Kenneth Clark and his son Jahab Ghallab on the "Rolling V Electronic Drum Kit". Although this trio lacked a bass, the drum kit adequately provided that sound. Nevertheless, it's always suitable to have that natural deep bass tone with any jazz group. Ghallab also extensively used the electric keyboard in addition to the synthesizer and Backroom's beautiful baby grand piano throughout the set.

It has been several years since this writer last saw Ghallab and had forgotten about his other instrument, the vocal chords. Throughout this evening, he displayed his vocal talents on R&B songs ranging from Al Green's "Let's Stay Together," Roberta Flack's "Feel Like Making Love," to Marvin Gaye's "What's Going On".

The talented Ghallab does not limit himself strictly to a singular genre. He's just as comfortable laying straight ahead jazz as well as contemporary jazz. He nicely infuses R&B oriented vocals throughout the set.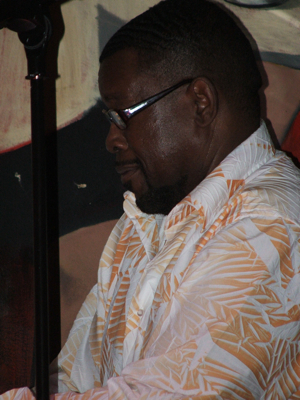 On this particular night, Ghallab was challenged by a table of loud patrons. He didn't seem to be distracted by the noise — perhaps it was his experience playing in front of rowdy crowds in Vegas. At one point he adeptly solicited the crowd's participation with one of his numbers. That seemed to get the attention of the inattentive group. Only a tried professional like Ghallab would have been capable of playing through that distraction.

Although this was, without a doubt, the Ghalib Ghallab show, there were occasions that allowed his sidemen to share the spotlight. Kenneth Clark shinned on "My Life in the Sunshine". This writer would have appreciated hearing more from Mr. Clark. The same can be said of Gahalib's son Jahab. He's an excellent drummer and more solos for the young man would have appreciated.

Although Ghallab's engagement at the Back Room the summer was extremely well attended and successful, to see more of this talented group will require a trip to Vegas. He'll be back at one of the lounges for those traveling to "Sin City" in the future. Don't miss them.

In the meantime, the Backroom, with it's beautiful and colorful jazz mural and pictures throughout this intimate room, provides an array of local contemporary jazz talent each and every night. It's located at 1007 N. Rush St. in the midst of one of Chicago's most popular nightlife areas. Take advantage of the "gem" of a jazz room for what should be a fun and exciting evening.
Check out other recent concerts reviews and photos

Contact Brad Walseth and JazzChicago.net at bwalseth60@aol.com