Yoko Noge
Jazz Me Blues

The Hot House
Chicago, IL
May 7, 2007
Story and Photos by Brad Walseth

One of the best secrets in Chicago is the wonderful music coming from the Hot House most Monday nights, where Yoko Noge and her Jazz Me Blues combo keep the audiences' ears delighted while filling the dance floor with swirling dancers entranced by the magical sounds coming from the stage.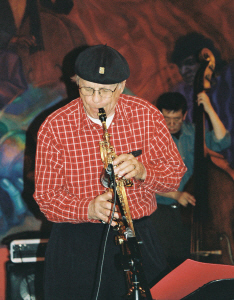 Noge's intent to blend traditional Asian music with American jazz and blues seems like an unlikely combination, but in this singer's performances it not only succeeds, it soars.

With a voice that veers from Asian Noh Theatre chanting to Delta blues in a heartbeat, Noge is a consummate performer who radiates yugen, or the beauty of the transcendental through her deeply felt vocals. Her piano playing also mixes Asian tonalities with down-home boogie-woogie in a manner that not only entertains, but also reminds us how closely related in the human spirit we of all cultures are in the end.

The band plays with Noge as though they were family - with everyone contributing to the party-like atmosphere - which often resembles a scene from some long-forgotten Storyvillle bordello.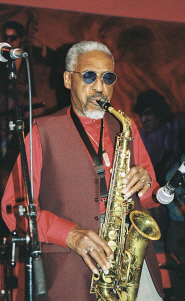 Co-Leader Clark Dean plays his soprano sax rojaku – playing only the essentials, while swinging secret weapon Jimmy Ellis on alto sax and vocals is a veteran Chicago jazzman who has played with people like Nat "King" Cole, Earl "Fatha" Hines, Sun Ra, Louie Bellson, Sarah Vaughn, and many more. Drummer Avreeayl Ra is an exceptional timekeeper whose background with the AACM allows him the ability to move from a shuffle to a thunderstorm as Noge's music requires. Meanwhile, bassist Tatsu Aoki needs no introduction as one of Chicago's finest bassists and musicians. They were joined on this night by young tenor saxophonist Jeff Chong, who took full advantage of the opportunity to impress with his exuberant style.

Songs ranged from Duke's "In a Mellotone" to Noge's original "Tsunami"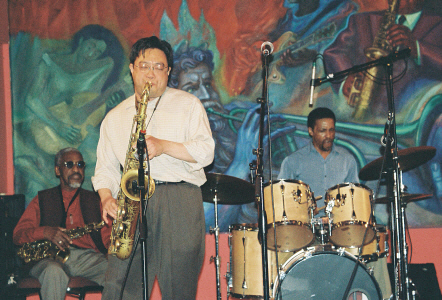 (featuring Aoki on a shamisen - a 3-stringed Japanese instrument somewhat like a banjo, which is plucked with a large plectrum called a bachi), and stylistically from Dixieland to art music. The dance floor was often filled with bodies moving in motion to the propulsion supplied by this energetic group, but it was perhaps Noge's heart-rending rendition of "Sometimes I Feel Like Motherless Child" that brought chills and maybe a few tears to listeners. Noge has succeeded in taking the elements of Afro-American song form and combining it with Asian music and art to reach a universal true hana - the creation and sharing of perfect beauty through performance.
Jeff Chong and Avreeayl Ra perform while Jimmy Ellis watches
| | | |
| --- | --- | --- |
| Jimmy Ellis | Jeff Chong | Clark Dean |
| | | |
| --- | --- | --- |
| | Jazz Me Blues | Yoko Noge |
| | | |
| --- | --- | --- |
| Jimmy Ellis | Jimmy sings | Tatsu Aoki |
| | |
| --- | --- |
| Jimmy Ellis | Clark Dean & Tatsu Aoki |
| | | |
| --- | --- | --- |
| Jeff Chong | Yoko Noge | Jeff, Jimmy and Clark |
Check out the Yoko Noge's homepage

Check out the HotHouse

Check out other recent concerts reviews and photos

Contact Brad Walseth and JazzChicago.net at bwalseth60@aol.com