Story and Photos by Brad Walseth

One of the best-kept secrets in Chicagoland - reedman Shawn Maxwell - brought his quartet to Pete Miller's in Wheeling Saturday night. Despite the blizzard outside, Shawn and his fellow musicians warmed up the surpringly full house, many of whom who braved the ice storm to hear these talented young players perform several sets of hot standards, lovely ballads, and tasty originals.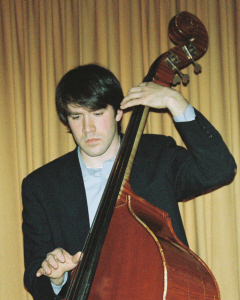 Good food and a comfortable atmosphere was the setting at Pete Miller's as Maxwell and his group took the stage. Maxwell's group has undergone some personnel changes lately with new musicians Graham Czach (on bass) and drummer Paul Townsend recently coming onboard. Additionally, pianist Leandro Lopez-Varady was sitting in in place of regular keyboardist - Matt Nelson. With a relatively untested group in place, the evening could have become a disaster, but I am very pleased to report that Maxwell and his new compatriots more than came through with flying colors. The new rhythm section - playing in only their third date together(!) was locked in and playing as if they had been playing together for years. Bassist Zach's lines were imaginatively punchy and precise, while Townsend displayed both sensitivity and power in his strokes.

Argentine-born Lopez-Varady, meanwhile, is a wonderful pianist whose block chording and flowing flourishes elicited gasps of delight at his flights of imagination. With eyes closed and a wry smile on his face, Lopez-Varady obviously loves playing jazz music. And bandleader Maxwell keeps getting better every time I see him, whether on sax, flute or clarinet.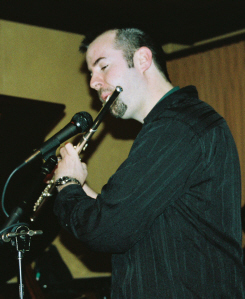 His playing is supple, yet packs a punch, schooled in the classics, yet original - always interesting and always entertaining.

The set list itself for the evening was impressive and ran from beloved greats like "Goodbye Pork Pie Hat" to Shawn Maxwell originals like "Inyes Crayons," "Lunch-Box" and "The Sixth." One of the best moments included the live premiere of a couple new Maxwell tunes. One - a flute ballad - was given loving treatment by the band, especially Lopez-Varady who delighted in exploring the melody in detail; while another original "Mr. Strongbow" highlighted the rhthym section to great success and provoked considerable excitement at the thought of the upcoming Shawn Maxwell Quartet sophomore album.

Maxwell's songs have been described as "quirky," but it is that little extra and unusual elements he utilzes so well in his music that makes them a cut above most new music in the current scene. His ability to combine traditional and original elements, without descending into avant garde horn-honking is a true pleasure to hear. And the music - although filled with interesting twists and turns, is still highly melodic and listenable. Saturday night was no exception, and this writer enjoyed a great time with a great band in a warm and inviting club on a wintry eve.


| | |
| --- | --- |
| Leandro Lopez-Varady | Shawn Maxwell |
| | |
| --- | --- |
| Paul Townsend | Graham Czach |
| | |
| --- | --- |
| Shawn Maxwell | Shawn Maxwell |
| | |
| --- | --- |
| Leandro Lopez-Varady | Shawn Maxwell |
| | |
| --- | --- |
| Paul Townsend & Graham Czach | Shawn Maxwell |
| | |
| --- | --- |
| Shawn Maxwell & Paul Townsend | Shawn Maxwell |
| | |
| --- | --- |
| Shawn Maxwell | Leandro Lopez-Varady |
| | |
| --- | --- |
| Shawn Maxwell & Leandro Lopez-Varady | Shawn Maxwell |
| | |
| --- | --- |
| Shawn Maxwell & Paul Townsend | Shawn Maxwell |

The End
Check out Shawn's homepage

Check out other recent concert reviews and photos

Contact Brad Walseth and JazzChicago.net at bwalseth60@aol.com