Story and Photos by James Walker

Last Thursday, March 1, 2007, a small, but very appreciative crowd gathered at the Harris Theater at Millenium Park for a very special evening of exceptional jazz. As most Chicago jazz fans are aware, Joe Segal's Jazz Showcase closed its doors at the Grand Ave. spot on New Years Eve after losing its lease. Thursday's gig was billed as a "Relocation Benefit," but unfortunately those who chose not to attend this star-studded concert missed out on an opportunity to see some of Chicago's and the nation's finest jazz musicians at their best. It also was a chance for the public to support Segal's efforts to relocate in a timely fashion. (The club owner has yet to find a suitable location, although he hopes to reopen the club by midsummer.)

How was the music, you ask? It was magnificent. Chicago is really blessed with exceptional jazz musicians, and on this night, that fact was very evident. Although the concert lasted nearly three hours, to this writer it was somewhat disjointed. About ten different aggregations took turns playing short 10 to 20 minute segments, displaying their skills.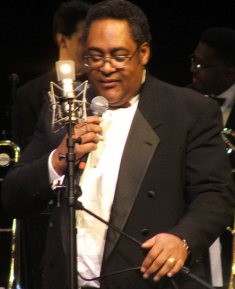 These segments were way too limited for jazz musicians to warm up to the task. It was quite evident that each group was performing with enthusiasm and zeal, only to abruptly yield to the next group. The music was great, but this writer would have preferred "more from less, rather than less from more."

Although Chicago's Freddie Cole was listed as the Master of Ceremonies, it was obvious from the inception that this was Segal's show as he took the stage as the M.C.

Jon Faddis and the Chicago Jazz Ensemble opened up the show. This is a fine group and as usual, performed admirably. Chicago is very fortunate to have such a talented musician/composer as Jon Faddis leading this ensemble. If only Faddis was here full time, instead of splitting time with New York. Faddis' persona and skill is infectious, and this evening was no exception.

Freddie Cole followed the CJE, and it was such a pleasure watching the man captivate the audience with his smooth playing and singing. Cole is the epitome of "Cool" and still has the ability to serenade an audience. Cole was joined on stage by saxophonist Harry Allen, bassist Stu Miller, and the incomparible Leon Joyce, Jr. on the drums. Theu concluded their set with "South Side Chicago" - which brought the audience to their feet.

The Bobby Lewis Quintet followed with Lewis on trumpet, Miller on bass, Joyce on drums, Andy Brown on guitar, and another one of Chicago's finest: Eric Schneider on sax.

The next group to perform was Greg Fishman on sax, his wife – Judy Roberts on piano, along with Harry Allen on sax and the aforementioned rhythm section of Miller and Joyce.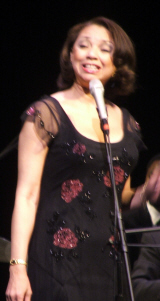 Roberts, a superb pianist, was at her best; she's a delight to watch.

The first half of the evening was concluded with a quartet led by pianist Benny Green. He was joined by three of Chicago's finest musicians, with Henry Johnson on guitar, Larry Gray on bass, and Robert Sly on the drums. This writer had never seen Green perform before - and what a pleasant surprise it was! This young man is an exceptional pianist and displayed his skills effortlessly. He appears to be very humble and throughout this segment deferred to his more seasoned sidemen. Nevertheless, this young man has a very bright future.

After intermission, "Two for Brazil" – Greg Fishman on sax, and Paulinho Garcia on guitar, performed. This duo has performed throughout Chicago for the past few years.

Saxophonist Eric Alexandra – along with Chicagoan Willie Pickens on piano, Gray and Sly, highlighted the second half. Alexander is a splendid musician who plays his sax with ease and calm. His sidemen – all marvelous musicians, played well together. Their bluesy rendition of an old Gene Ammons tune had many in the audience spontaneously responding.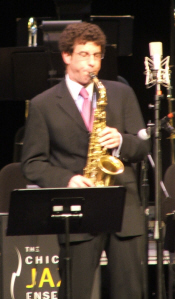 The last group to perform before the finale, was a group led by Chicago's own, world-renowned drummer Jack DeJohnette. He was joined by Gray on bass, and the great Danilo Perez on the piano. What a way to end a splendid night! They were great! True professionals interacting as if they had played together for years. DeJohnette's quick hands and instincts revealed an ingenuity on the drum kit that allowed him to react appropriately in the moment to Perez's accents, This trio could have played all night long.

This wonderful evening was concluded with a Grand Finale that was led by Jon Faddis and the Chicago Jazz Ensemble. Vocalist Bobbie Wilsyn joined the party before all the performers came back on stage to participate in a short "jam session." All had an opportunity to give one final musical expression before Segal reluctantly brought the concert to a close.

The love expressed by all of the performers was very real, and one can only hope that the love shown tonight will be enough to allow Segal to forge ahead toward his goal of finding a new location for one of Chicago's institutions: The Jazz Showcase. Good luck, Joe!