Story and Photos by James Walker

It's always a pleasure listening to a live set of smooth jazz sax man Ray Silkman. Saturday, Feb. 10th at Close-Up 2 (416 S. Clark) was no exception. Although it was cold and frigid outside, Silkman had the capacity crowd inside hot and torrid. Playing with a valiant spirit, Silkman's sidemen whipped up an interactive whirlwid behind him. If you have yet to check out this brilliant, energetic saxophonist, you owe it to yourself to do so as soon as possible (www.raysilkman.com) Silkman's spirit is uplifting and can be felt throughout the room.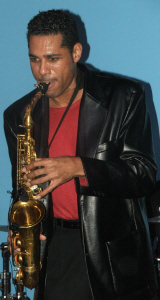 During this particular set, Ray was joined by longtime bassist Paul Richmond and drummer Hamisi Jackson, along with Tim Gant on the keyboard. Gant, a gifted pianist, demonstrated throughout the evening his solo ability, with strong phrasing that was built on rapid-fire lines and repeated licks with fleet-fingered fluidity. Bassist Richmond, as always, was very cool and stoic as he played deep bass tones with ease. Richmond has been playing with Silkman for many years and is a perfect complement to Ray's signature driving and bold attack of each note.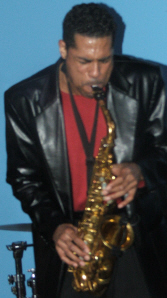 Silkman, playing either smooth love ballads, or covering tunes of the late, great Grover Washington, Jr., is always charismatic and easily connects with his audience. This evening, Silkman had the crowd on its feet all night long. Most performers rely on the feedback of the viewers for their energy. Tonight, Close-Up 2 was flowing with fire and exuberance. It was a pleasure to see this room full of life.

Silkman opened Close-Up 2 in the fall in front of a sparse audience. If tonight was an indication, this downtown venue is here to stay. It's cozy, with lot of charm, and just the place for a downtown, after-work group, or those discriminating smooth jazz fans looking for a new and exciting venue. Check it out, you won't regret it (www.closeup2jazz.com).