Story and Photos by Brad Walseth
additional photos by Robert Anderson
"I'm most inspired by her understanding of the power of music to heal, to transform… and she also drew from different world music, which was a way of unifying people, because there are certain scales and modes that are understood by all the cultures, and she really connected with that in her music. And also she saw that even though people have different faiths and different concepts and ideas about how to live or a way of life, really all those paths lead to the same place because we're really just looking for self-actualization, and we're looking for peace. That's what everybody is looking for and that's what I try to connect to with her music." – Nicole Mitchell speaking on what Alice Coltrane's music meant to her.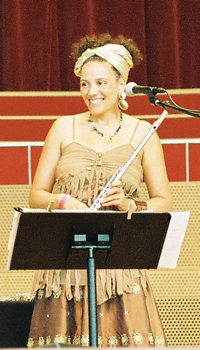 Acclaimed jazz flautist and composer Nicole Mitchell, took the stage at Millenium Park last night for what turned out to be an extremely successful premiere of "Where Many Rivers Meet the Sea," a suite of new compositions by Mitchell inspired by the music and life of the late Alice Coltrane. Coltrane, a pianist, organist and harpist, was the wife of tenor saxophone giant John Coltrane, and replaced McCoy Tyner in his classic quartet in 1965. Ms. Coltrane recorded several albums as a leader after her husband's death, before becoming the spiritual leader of an ashram outside of Los Angeles. 2004 saw the release of "Translinear Light," her first new recording in a quarter century. Coltrane herself died in January of this year.

Accompanying Mitchell on this event were several of Chicago's finest jazz artists, including special guest pianist Myra Melford, (a former Chicagoan, whose "Heart Mountain" was recently reviewed on this site), whose energetic and expressive piano playing was complemented by her exquisite work on the harmonium – a hand-pump organ used in Indian religious music (a most apt choice for the occasion). Mitchell's glorious songwriting moved effortlessly from wild and intensely joyous to gentle and refulgent as her suite traced the story of a person moving through life toward peace. The spacious arrangements allowed for all members of the 14 piece orchestra to add their own personal spirit to the process, and the effect was sheer incandescence as everyone involved responded with solo flights full of spirit and freedom of personal expression heightened by the fact that these individuals are musicians of the highest level.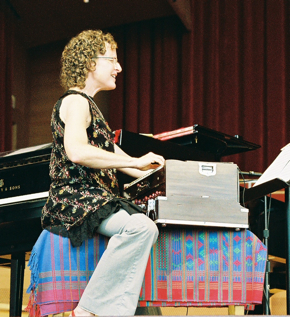 Besides Mitchell and Melford, the group included two additional flautists, young phenom Tomeka Reid on cello, AACM veteran Avreeyl Ra on percussion, and a strong rhythm section of bassist Josh Abrams and drummer Marcus Evans. Matana Roberts on alto sax, David Boykin on tenor and David Young on trumpet were all three simply on fire on this sultry night, with intelligent and exuberant solos suddenly erupting from this stellar horn section. Boykin especially impressed with his gritty Coltrane- (John) inspired work, but the others were impressive as well with Young's brilliant tone and Roberts intensity quite rewarding. Meanwhile, vocalist Zahra Baker added some sensitive spoken word and lovely vocals that brought yet another dimension into play. A string section of Renee Baker and James Sanders added depth to the overall sound, along with some choice soloing as well, while harpist Maia was a delight – who combined with Melford to produce an engagingly hypnotic sonic tapestry of counterpoint and harmony, while also soloing at times as though the stolid old classical harp was a gut-bucket blues instrument.


Through varied compositions like "The Seeker," "Focus" (with Melford on harmonium), "Liberation" (with Maia's beauteous harp a centerpiece) and the incendiary "Desire" (in 7), this orchestra created a wide array of tonal colors that matched the wide-ranging cultural palette of the artists involved. At the center of all the excitement, like the eye of a hurricane, was the band leader/ composer herself, Mitchell, a strikingly attractive, intelligent and creative woman whose life spirit seems to shine in an aura about her. Conducting, communicating through her eyes and gestures to the others – she coolly kept the whole swirling maelstrom together seemingly through her force of will. For a suite that was written celebrating the feminine power of Mother Earth, it was a remarkable display, and when the artist recently named best Jazz Flautist by the Chicago Reader took the rare opportunity to solo herself, it was a breathtaking performance of skill and ego-less musicality wherein the artist merged with her instrument to produce music of great personal and universal depth, beauty and feminine power.

Another great concert by the City of Chicago, Millenium Park and the Jazz Institute of Chicago, and all involved are to be commended. And as Jazz Institute Executive Director Lauren Deutsch presciently remarked before the concert – jazz is the music that brings people of all backgrounds and cultures together. Nicole Mitchell's performance Thursday night was a supreme example of the ability of spirituality to achieve peace, love and understanding between people through the shared language of music.