Story by Brad Walseth

Friday night at the Chicago Symphony Center, the audience was treated to a celebration of the music of the legendary jazz composer, Charles Mingus, when Third Stream vanguard Gunther Schuller conducted an 85th birthday anniversary tribute concert of Mingus' symphonic work – "Epitaph." There is considerable controversy over Sue Mingus and Schuller's presentation of Mingus' "Epitaph" as a complete work, since the separate components have at times appeared elsewhere ("Better Get Hit in Your Soul," "Peggy's Blue Skylight," "Chill of Death"), and the primary, and somewhat non-compelling argument for treating the compositions as one work - despite their being really no linkage between them - is that the pieces were discovered numbered in one score for the infamous and mostly-disastrous 1962 Town Hall Concert recording session.

For those unfamiliar with the 1962 event, Mingus was pushed into performing this recording session as a concert well ahead of schedule, without ample rehearsal time. The audience was not aware of the nature of the "concert," which included stops for mike checks, and the playing of the same song over to get alternative takes. The evening ended in mythic/comic fashion when an impromptu jam on "In a Mellowtone" nearly turned into a riot as NYC union stagehands pulled the curtain on the band.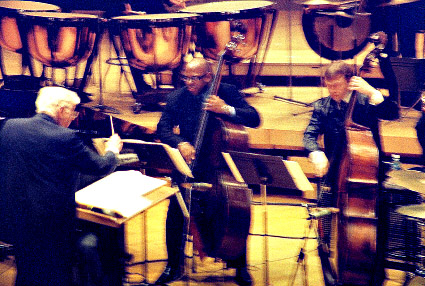 The 500 page score for this evening was later reconstructed by Schuller for an album recorded posthumously, and this concert – which featured newly discovered material, according to Schuller, was an opportunity to hear the rarely performed "work" performed in its totality.

A 31-piece band, filled with exceptional players was recruited to recreate this massive work, consisting of 20 sections, which in most respects truly functions more as a kaleidoscopic look at the composer's talent than as a coherent whole. The large band featured two bassists, two pianists, a vibraphonist, drummer and two percussionists, along with six trumpets, six trombones, tuba, guitar, seven saxophones, a bassoon and contrabass clarinet. Many of the players, such as tenor saxophonist Wayne Escoffery, are members of the various Mingus tribute configurations centered in New York City, but the list included several other well-known names, such as: bassist Christian McBride; pianist Kenny Drew, Jr.; trumpeters Ryan Kisor, Jack Walrath and Alex Sipiagin; baritone sax legend Ronnie Cuber; trombonist Conrad Herwig; and tuba virtuoso Howard Johnson.

With an all-star group of musicians, and a world famous arranger conducting perhaps the greatest jazz composer's music, the stage was set for an evening of wonder and high-powered excitement. Unfortunately, that was not entirely the case. Much of the lasting beauty of Mingus' music comes from the raw, gut-wrenching energy inherent in the composer's bigger-than-life personality. This man was a giant in life as well as jazz, and he channeled his rage at being treated as a second-class citizen (at best) into his music - spewing out fire and brimstone in every direction. He was notorious for terrorizing his musicians, forcing them to think and create for themselves and refusing to accept anything less then giving their all.

Friday night's concert was well rehearsed, suitably polished and well played by highly schooled musicians, and unfortunately mostly lacking in the kind of primal energy that one hears in much of Mingus' recorded work. Most of the soloists seemed strangely subdued – the exceptions: an energetic Alex Sipiagin on trumpet, and exuberant Ku-umba Frank Lacy on trombone almost seemed embarrassed and out of place in the context of a serious work of art in a symphony hall setting, despite being nearly the only ones on the stage who seemed to truly understand Mingus' call to laugh, cry and leave your blood on the floor when you play your instrument.

Not that they were the only examples of good playing: Drew was excellent on the keys, Christos Rafalides a phenom on the vibes, and the redoubtable McBride showed himself an apt student of the late bassist's formidable technique. Sadly however, the normally fiery Escoffery, and Herwig were both tentative and restrained, and this was often the case with musicians seemingly fearing to pierce the gravity of the "Event." .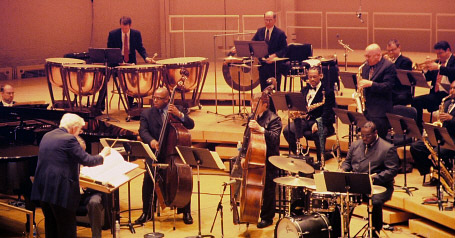 Meanwhile, Michael Rabinowitz and Douglas Yates proved it is possible to play the blues on the bassoon and contrabass clarinet respectively. Drummer Johnathan Blake did well when given space, but spent most of the evening admirably acting as primary timekeeper. The two bass, two piano and excessive horn sections seemed odd at times, since the music rarely called for all of the above; and there were times when - for example, both pianists AND the vibraphonist were all sitting on their hands. I also found myself wondering a bit at the smooth and rather humorless arrangements, and it often seemed to me to be entirely not enough Mingus, and perhaps too much Schuller in the mixture.

In the end, it was a mostly pleasant experience to hear Mingus' work presented in a lengthy, quasi-symphonic, albeit patchwork setting. The music moved through many interesting phases that captured well the composer's many areas of interest - from hot small combo sections, through ballad-like grace, to tributes to Duke, Oscar Peterson and Jelly Roll Morton, to Bartok-influenced modern classicism. Hearing mysteriously intriguing, and almost atonal compositions like "Chill of Death" live reminded me of what a great writer Mingus was, and how tragic it was that he didn't receive the recognition he deserved in his too-short lifetime. One can truly appreciate Schuller's attempt to bring Mingus' dream of elevating jazz music to the symphonic level to fruition, while bemoaning the fact the artist was denied the opportunity to do it himself in his lifetime. Great as it was to hear this admirable, yet somewhat pale attempt to honor one of the true geniuses of American music, for me the concert only approached the joyous and playful energy Mingus would have demanded in life during the heated version of "Better Get Hit in Your Soul," where momentarily you could almost sense the big man may have been smiling behind his scowl from wherever he was watching from.