Story and Photos by James Walker

What a marriage!! Miles Davis and John Coltrane being played by a Latin-oriented band. For those present at The HotHouse (32 E. Balbo)on Friday, March 9th, what a pleasure. It doesn't get much better than this. "Trane" and Miles are institutions in the world of Jazz, and never before has this writer experienced them with such a fresh, lively beat.

Conrad and Herwig have dedicated their Latin sound to the interpretation of the works of Miles and Trane, and the public benefits from this unique endeavor.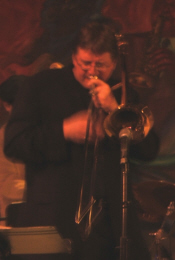 This outstanding band was joined this evening by Grammy Award Chicago multitalented sax man Mike Smith. Smith helped to jumpstart this set from the inception with some smooth sax playing without overstepping his boundaries as a guest artist.

Let there be no mistake about it, the heart and soul of this seven piece band is Brian Lynch on the trumpet and Conrad Herwig on the trombone. A pleasant surpise to this writer was the steady play and adept improvisation of Bill O'Connell on the piano. He's very elegant and easily catches one 's attention when filling the spaces bewteen solos of the other musicians. His interaction with colleagues is second nature.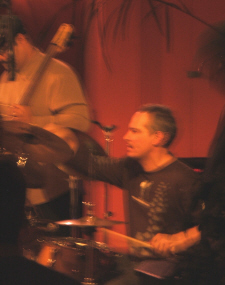 Although the combination of timbres can be jarring when Lynch and Herwig play melodies together, the exciting solo passages are more than adequate compensation. Working mostly in uptempos throughout this 90 minute set, Lynch and Herwig constantly engaged in happy banter. This interplay was climaxed during the finale of Trane's "Blue Train" when the two exceptional musicians battled back and forth, note for note, while feeling each other out. This was truly the highlight of the evening.

Bandleader Herwig doesn't forget his other bandmates and often steps aside to allow the spotlight to shine on fine drummer Robby Aneen, bassist Ruben Rodriguez, and percussionist Paoli Mejias. All seven musicians play parallel parts that work together and never sound busy. Mejias even added vocals during one of his solos.

If the response of this standing room only crowd is any indication this fine group needs to find its way back to Chicago in the very near future. When this happen, be sure to experience for yourself "The Latin Side of Miles and Trane."

Finally, with the temporary closing of the Jazz Showcase, The Hothouse is one of Chicago's few jazz rooms for national and international acts. The room is ideal, with the audience respecting the musicians and each other. Jazz fans, support this fine venue. It may be Chicago's best kept secret. Jazz isn't perfromed there every night, but you can rest assured that outstanding bands can be seen there two to three nights a week. Check out their schedule at http://www.hothouse.net or call 312-362-9707.