Story & Photos by Brad Walseth

Evanston's annual Fountain Square Arts Festival was the scene of some exciting new jazz sounds, Sunday June 24, as the Jason Steele Ensemble presented an entrancing concert for attendees.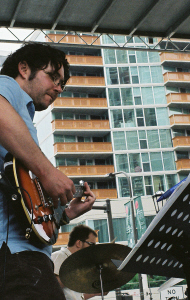 Appearing with almost a completely revamped band than the one that recorded the recent Cd release on Ears & Eyes Records — "Some Wonderful Moment," (SWM) — see our review here — guitarist Steele and his fellow musicians performed several of the cuts from that exceptional release – along with some newer and older tunes and some unusual covers, and their unique harmonies and inspired playing seemed to resonate well with the arts festival audience.

With a sound as fresh as the wind off of Lake Michigan, Steele's ensemble represents a welcome new and original direction for jazz. Steadfast drummer Charles Rumback (the only holdover from the previous band) and Steele provide the equilibrium, with the guitarist's subtle iterations often providing the tonal center around which the soloists navigate.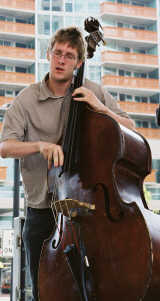 And the players proved worthy to the task, with saxophonist Charles Gorczyuski nearly searing the atmosphere and trumpeter James Davis launching gloriously refulgent lines. Patrick Mulcahy also showed intelligent and energetic chops on the upright bass. It was a true pleasure to see such talented young musicians playing thoughtful, inventive music so well.

Opening up with the "Horn Interlude" from "SWM," the band then dug into "Since Forever," a wonderful piece written by cornetist Ron Miles from the same release. Making my way through the crowd to the bandstand, I was only able to catch part of the song, but it seemed well performed, with Davis ably handling the Ron Miles parts. A new tune — "When the Angels Fly Around You," followed and proved clearly that the future appears bright for this young composer, as the interesting number bristles with imagination while carrying forward with the signature Steele sound.

Two more excellent cuts from SWM — "No Words" and "Proceed to Numb" were thankfully included, and it was quite exciting hearing these great songs played so well live by focused and serious musicians.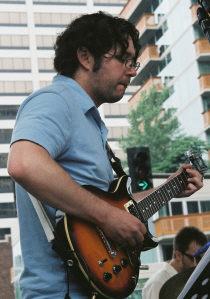 Both feature gorgeous horn arrangements, Steele's somewhat Frisell-ish guitarwork, some ferocious solos and plenty of surprising twists. An older piece — "Amy Little" showed Steele at his most melodic and seemed almost charmingly innocent, while another new tune — "New Professor" displayed some Latin touches before metamorphosing into other forms. Solos from all the players throughout the entire set were uniformly excellent, and these young artists deserve praise for their hard work and cohesiveness.

This exciting set was rounded off with a tasty version of "Softly as a Morning Sunrise," along with alt-pop artist Sufjan Stevens' "Seven Swans." That Steele and his band would cover Stevens was not a huge surprise considering the version of Elliott Smith's "Alphabet Town" on SWM, but the fact that they did perform this song speaks volumes for the breadth of Steele's musical tastes and his courage to expand upon the sometimes stifling nature of the jazz idiom.