Joel Moore Quartet

Andys
Chicago, IL
May 17, 2007
| | |
| --- | --- |
| Joel Moore | Joel Moore Quartet |
Story and Photos by Brad Walseth

Great to be back at Andy's and hearing good music again - maybe spring has really come, with summer shortly to follow. Meanwhile, I have to wonder what is in the water out there in the western burbs as I keep hearing great music coming from the musicians that live out there. Tonight's band - the Joel Moore Quartet is no exception and I heartily recommend that people get out to see these guys live.

Bandleader Joel Moore has a big brawny tenor sound, but he can play it soft and gentle on the ballads as well. He is obviously well-schooled in the Coltrane sound, but smooths it out when needed. Bassist Bob Ferraris is a total powerhouse, and he combines with active drummer Paul Townsend to provide a solid and stimulating undercurrent. New keyboardist Paul Scherer is less quirky than the departed Jakob Rojek, but he shows a nice touch on the keys whether complementing or on solos.

The Joel Moore Quartet's self-titled debut album was one of our top-10 releases of 2006 (click here for our review) and it was a true pleasure to hear songs off the recording played live. Songs like "Fireside" and "November" sounded wonderful and the band played them with gusto and confidence. They also threw in some choice covers - such as Coltrane's "Moments Notice."

The last set offered a surprise in that singer Agnieszka Iwanska took the stage with the band to perform several of her original songs. Like Basia, Iwanska is a Polish singer who has taken on the Brazilian sound pioneered by Astrud Gilberto. She sang her well-written songs showing considerable ability, and charmed the crowd with her fresh and honest approach.

A great evening was had by all, sparked by the lively music provided by the Joel Moore Quartet. Andy's is also to be commended for helping keep jazz alive in the city of Chicago.
| | |
| --- | --- |
| Paul Scherer | Bob Ferraris |
| | |
| --- | --- |
| Paul Townsend | Agnieszka Iwanska |
| | |
| --- | --- |
| Joel Moore | Joel Moore & Bob Ferraris |
| | |
| --- | --- |
| Paul Scherer | Bob Ferraris |
| | |
| --- | --- |
| Joel Moore Quartet | Joel Moore & Bob Ferraris |
| | |
| --- | --- |
| Joel Moore | Joel Moore & Bob Ferraris |
| | |
| --- | --- |
| Bob Ferraris | Paul Scherer |
| | |
| --- | --- |
| Joel Moore & Paul Townsend | Joel Moore |
| | |
| --- | --- |
| Agnieszka Iwanska | Joel Moore Quartet |
| | |
| --- | --- |
| Bob, Paul & Joel | Joel Moore & Bob Ferraris |
| | | |
| --- | --- | --- |
| Bob Ferraris | Agnieszka Iwanska | Joel Moore |
| | | |
| --- | --- | --- |
| Bob, Paul & Joel | Joel Moore | Joel Moore |
| | |
| --- | --- |
| Joel & Agnieszka | Paul Townsend |
| | |
| --- | --- |
| Bob & Paul | The Joel Moore Quartet |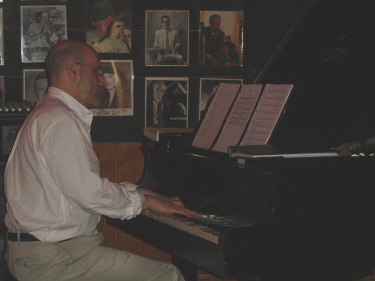 Paul Scherer
Check out Joel's homepage

Check out other recent concert reviews and photos

Contact Brad Walseth and JazzChicago.net at bwalseth60@aol.com