Story and Photos by James Walker

Smooth jazz, contemporary jazz, fusion jazz... these are terms that have been associated with the type of music one can often hear on radio stations like WNUA in Chicago. However, one would like to describe this sound, it's here to stay.

Such was evidenced on the night of Saturday, July 21st, at the beautiful Chicago Theater, where the JVC Jazz Festival had a one night stop for a fun-filled evening. The near-capacity crowd anxiously awaited the start of the "Jazz Attack," when trumpeter Rick Braun made a grand entrance from the back of the theater hitting the "oh-so-high" notes that he is noted for. He opened this set with a duet with saxophonist Richard Elliot, paying tribute to smooth jazz pioneer, Grover Washington, Jr., by doing "Mr. Magic." What an appropriate tune got the crowd immediately into a festive mood.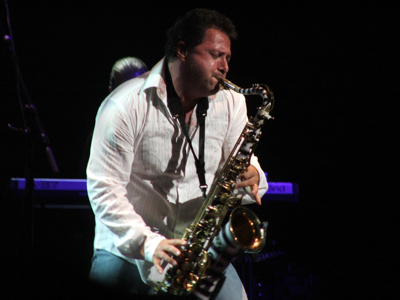 Also on the bill for the evening was Peter White on acoustic guitar and the incomparable Jonathan Butler on the guitar and smooth vocals. Peter and Richard played a beautiful ballad made famous by the R&B group "The Stylistics" called "People Make the World Go Around." Richard is no stranger to R&B as he was a member of the soulful group, "Tower of Power" That group is noted for their resounding horn section, and Richard Elliot demonstrated throughout the evening his towering sounds, in addition to his smooth, soulful ballad side.

Watching both Elliot and White on the same stage is a sight to see. Those familiar with Peter White and his animated, unorthodox movements, along with Elliot's smooth soulful struts, understand what this writer is talking about. Elliot's holding of notes for what seems like forever, is breathtaking. He was at his best on this song, and later in the evening, on Percy Sledge's, "When a Man Loves a Woman." That song was one of the many highlights of this wonderful evening. Elliot acknowledges that this is one of his favorite tunes to play.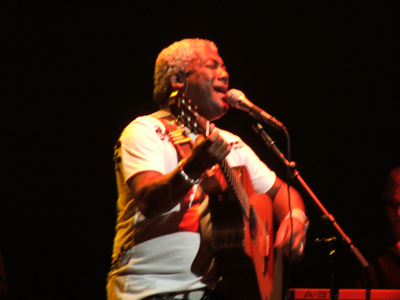 Jonathan Butler added another dimension to the evening. He's a very entertaining individual, but he's also very spiritual. In addition to his marvelous guitar playing, he also demonstrated his vocal talents on several numbers, including his scatting ability. His vocals on the gospel tune, "God Will Make a Way," brought the audience to its feet. It was during this segment that one could see the spiritual side of Butler. Too often, Butler is seen as being very humerous and playful, but when he becomes serious, he's totally different.

Before closing the evening, Peter White returned for a few more songs. Peter being from England, recognized the influence "The Beatles" had on his career, but acknowledged his true inspiration for music came from the R&B group "The Isley Brothers." He did an excellent job on their "For the Love of You."

The finale was an exceptional rendition of Hugh Masakela's "Grazing in the Grass," with all returning to jam on this piece. What an evening!!! These guys make no excuses for the type of music they play. They aren't pretentious, just fun-loving smooth jazzers who love to entertain. The Jazz Attack accomplish that task this evening.