Story and Photos by James Walker

Make no mistake about it, Close Up 2 (CU2) at 416 S. Clark in downtown Chicago is becoming a favorite spot for smooth jazz lovers. This cozy, upscale South Loop night spot opened last fall and has been attracting larger and larger crowds as the word is finally getting out about this diamond in the rough.

This particular weekend ushered in a performer new to the Chicago scene: Harlan Jefferson from Rockford, IL. Jefferson plays the tenor and soprano sax, in addition to the flute. He was joined on stage during this two week gig by trumpet player & percussionist Al Strong, keyboradist "Cheesburger," and local sidemen Will Howard on bass and Derek Henderson on drums.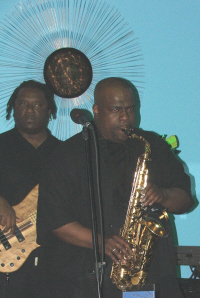 During this writer's review of the set on Thursday, March 22nd, trumpet player Strong was not present. Nevertheless, this was one of those evenings where a relatively small crowd got caught up in an impromptu "give and take" with the band. It quickly became obvious that Jefferson was feeding on the motions and engthusiasm of the audience as they were whipped into a frenzy by the infectious sounds of this high-energy band. At one point, this writer wasn't sure if he was in a jazz club, blues club or church!!! That's right... Church! While finishing up playing Ray Charles' "Georgia on my Mind," Jefferson sponteneously slid into Edwin Hawkins' gospel classic "Oh Happy Day." The crowd instantly became the choir and began singing along as Jefferson and the band played the melody: it was special. They followed this with the highlight of the night - Prince's "Purple Rain." The crowd stood and waved lights and cellphones as they again sang along with the band.

Jefferson is a very talented reedman, but must learn to share the stage more with his fine trumpet player Al Strong. During this writer's 2nd viewing of the band, there were occasions after long solos by Jefferson when Strong would have been more effectivehad he taken over for Jefferson for a solo instead of just allowing the band to play the melody. This would have been a smooth and natural transition.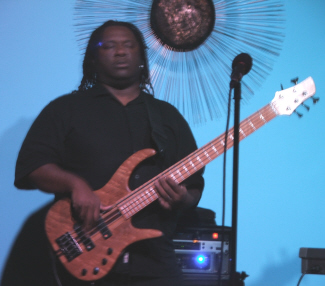 Drummer Henderson did have several opportunities to display his extraordinary skills. Derek is a gifted drummwer and plays with so much energy and zeal. Henderson can often be seen around Chicago as a sideman and occasionally fronts his own band. Bassist Will Howard is no stranger to the Chicago jazz scene. Howard plays both the elctric bass and the upright with equal skill. he played deep bass tones with fleet-fingered fluidity. Keyboardist "Cheesburger" orchestrates the rhythm section while Jefferson solos. He ats as a catalyst for his impressive bandmates, but should be given more opportunity to solo. When he does, his approach is patient and thoughtful and his touch is impeccable.

Overall, Jefferson's two weekend gigs at CU2 were very successful. The crwods were fervent, and this new group seemed to be better in touch with each other by the end of the last set on Saturday. Let's hope that Jefferson returns to Chicago soon with this same group of sidemen, as this writer highly recommends checking him out when he returns.