Review and photos by Brad Walseth


Chicago is a great town for jazz, and one of the things I enjoy most is that you can catch some very talented up-and-coming musicians performing any day of the week.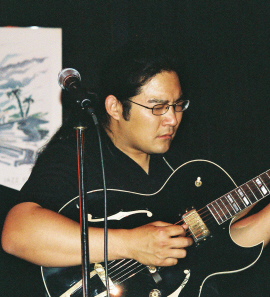 Andy's is a great place to catch some of these musicians, with players like Frank Catalano and Joel Moore among some of the recent offerings. Tuesday nights all during the month of May, guitarist Gary Tu showcased his trio - featuring exuberent young bassist Kurt Schweitz and veteran Chicago drummer Tim Davis. Schweitz - an active and very talented young bassist is often seen in the Chicago area backing up musicians like Charlie Johnson, Dan Effland and Pete Carney. Davis is a stellar drummer with extensive credits (Tim Green, Curtis Fuller, Herb Ellis, Kurt Elling and... Tiny Tim?!) who will be appearing with pianist Mike Jones this weekend at the Green Mill. This talented trio play extremely well together and seem to enjoy the experience, while pushing each other to stretch out a bit more.

Tu's fine recent album - "Look East" was recently reviewed on this site (click here for the review). His guitar playing is clean and uneffected, and he could be described as a cross between Pat Metheny and Wes Montgomery.
Song choices were exciting with songs from the album like their version of John Lewis' "Milestones," and Steve Swallow's "Falling Grace" shining. Schweitz' bass work was spritely and exceedingly melodic, while drummer Davis showed admirable taste in support, and enough power and attitude during solos to elicit considerable excitement and applause from the crowd.

Tu excelled on such favorites as his version of Sonny Rollins'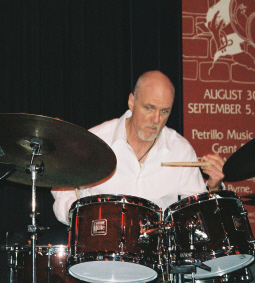 "Airegin"(also on "Look East"), Metheny's "Water Colors" and "Question and Answer." The guitarist's lines are fluid and melodious, fast but not at the expense of melody. One highpoint for me was when Tu dropped his pick and had to play Wes Montgomery-style with his thumb. Metheny's "The Chief" and "James" were both performed well, and it was a great pleasure to hear the group tackle Ornette Coleman as well as John Scofield's "You Bet."

As I drove home through the streets of this great city, I passed hundreds of people dining in the sidewalk cafes around Chicago. Musing to myself, I could only hope that these people would take the opportunity to catch some of the great jazz acts this city has to offer - the Gary Tu Trio being one I believe most would hear and enjoy.