Story and Photos by James Walker

Wow!! What a stirring set. Ernie Adams and his All Star band truly lived up to expectations at the weekly Checker Jazz gig at the Checkerboard Lounge last Sunday. With much anticipation, this writer looked forward toward reviewing this set after learning the musicians who were scheduled to appear with Ernie.

Chicago has a growing number of exceptional musicians and for this performance, Ernie called upon some of his friends who just happen to all be world class musicians. On bass, you have Eric Hochberg who has travelled worldwide and played with the likes of Kurt Elling, Pharoh Sanders, Von Freeman and Pat Metheny, among others. Guitarist Henry Johnson for years was a mainstay with the late Joe Williams, in addition to playing with Nancy Wilson, Ramsey Lewis and Jack McDuff. Perhaps the least-known member of the group, pianist Charlie Johnson doesn't yet have the resume of his collegues, but certainly can hold his own on the 88s with the best. Ernie Adams has also played with some of the best, including Nancy Wilson, Clark Terry, Al DiMeola and Ramsey Lewis. As you can see, this is a formidable group.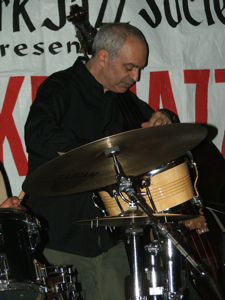 From the top of the set, they started with a beautiful rendition of "Caravan." Both Henry Johnson and Charlie Johnson were featured on this tune. In addition, Adams spares no piece of his drum set on this number, including the adept usage of his hands on the skins without the sticks. While playing Horace Silver's "Peace," Henry Johnson really displayed his fleet-fingered skill, producing a sultry sound on his guitar. If one would close one's eyes during this number, it would bring visions of George Benson or Wes Montgomery being in the room. That's not an exaggeration; he's truly that good.

Eric Hochberg was featured next on "Black Orpheus" (Day in the Life of a Fool). It was such a pleasure seeing Eric displaying his incomparable talent on the upright bass using a bow. It's not heard often enough by bass players and Eric was really in control on this piece. This was quite evident by the positive reaction from the appreciative crowd. He was again complemented on this Bossa Nova piece by the soloing of Adams. Back to Hochberg; throughout the evening, he demonstrated why he's considered one of the finest bass players in Chicago. Tonight he was really in the zone!

Charlie Johnson is always a pleasure to behold. Perhaps the highlight of the evening was his solo on Freedom Jazz Dance. Sounding like a Herbie Hancock with his usage of synthesizer, he simply took over on this number. Charlie's rapid-fire lines with repeated licks were phenomenal. This diamond in the rough was a sight to be seen on this number. Charlie also starred during the 2nd set on an uptempo tune with a boogie-woogie twist. Johnson was the reincarnation of the Chicago Fire on keys, because he was buring the up.

Also during the set, Henry Johnson had a fine solo on "Killer Joe." He continuously unleashed his staggering instrument with reckless abandon. His guitar sets the tone. It's very apparent that he is influenced by the legends Benson and Montgomery.

Ernie Adams is simply a master on the drums. He never overplays and always maintains the beat by staying within the groove during his solos. He never loses touch with the rest of the band. As always, he distinguished himself on the drums fueling the proceedings with his power-precision drumming.

What an evening of superb music!! Although these gentlemen do not always play together, let's hope they consider doing so more often in the future. All are true professionals who often front their own band, but tonight four equal parts truly equalled a whole.

Catch more fine jazz at the Checker Jazz set this Sunday October 28th with vocalist Maggie Brown.