Story and live photos by James Walker


On Feb.12, 2007, Eldee Young – one of Chicago's renowned jazz musicians, passed away in Thailand of an apparent heart attack. Over the past 20-plus years, Eldee spent considerable time each year performing in the Far East. Originally however, Eldee made his name in the Chicago jazz scene as bass player in the Ramsey Lewis Trio (along with long time friend Redd Holt on drums) during the "In Crowd" days.


Based on the number of Chicago's finest musicians present on Monday April 16, 2007 at the South Shore Cultural Center on the South Side, Eldee was very well respected and much loved by his peers. It was truly a "Who's Who" of Chicago jazz assembled that evening to rejoice in the life of Eldee Young – who despite his small stature was a true giant.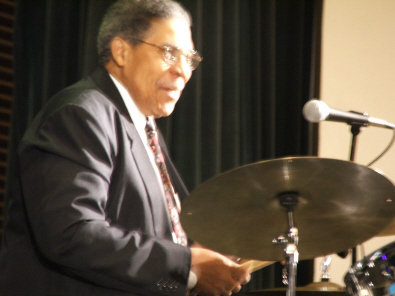 Many thanks must be given to Ken Chaney, one of Chicago's premiere jazz piano players, for assembling this grand group, and coordinating the evening's three plus hour tribute in such a seamless manner.


The evening began with Redd Holt on the drums, Jimmy Willis on bass, and Wallace Burton on piano. This trio played several tunes tonight, including "Orange Colored Sky" – one that Wallace and Eldee played together many times. Meanwhile Redd was cool on the drums on "Old School Smooth." This start was particularly appropriate as it was with Wallace that Eldee got his start in the '50s performing with a group called The Clefs. Red also was in this group when Wallace invited a young Ramsey Lewis to join them. Soon after, Wallace was drafted into the military, and as the saying goes, "The rest is history."


This writer was thrilled to see Wallace still performing, as he has been acquainted with Walace since working with him as an Elementary School Administrator in North Chicago during the late '70s and '80s. (Look for a full interview with Wallace Burton in the near future here on JazzChicago.Net!)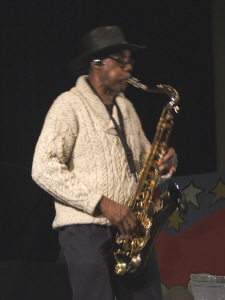 It was also during that period that this writer had an opportunity to meet Eldee when Wallace brought him to North Chicago, along with Redd to perform for and conduct a clinic for junior high school students. Throughout the years, they maintained a close relationship.


Next group to perform along side Redd was Ken Chaney on keys, and Ray Bill on the tenor sax. Ray performed many gigs with Eldee on the North Side. They played a beautiful ballad made famous by Satchmo Armstrong – "What a Wonderful World" on which Ray's tenor solo was superb.


Next up was Tony Walton on drums, along with Wills on bass, and one of Chicago's finest musicians – the multi-talented Ari Brown on piano. That's right, piano. Although Ari is primarily known for his tenor, he initially began his music career on the piano before transitioning to the piano.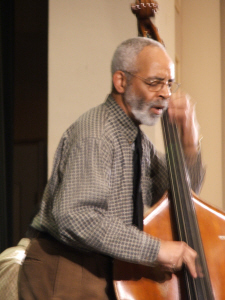 They played a beautiful version of "Autumn Leaves" - proving that Ari is as exceptional on the keys as he normally is on the tenor sax.


Next aggregate included Miguel de la Cerna on the piano backed by Walton and Willis. The pianist's arrangement of "Secret Love" was very well done. de la Serna is an exceptional conductor and arranger, in addition to being an excellent piano player. He arranges much of Chicago's premier jazz vocalist – Dee Alexander's music.

Up next - vocalist Maggie Brown (daughter of Oscar Brown, Jr.) along with cellist Tomika Reid, did a duo of "here's to Life." This was a truly beautiful ballad – again arranged by de la Cerna.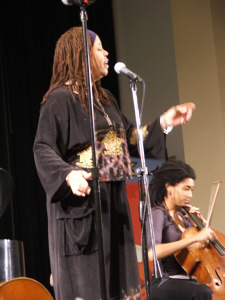 It was stated by Ken Chaney that Eldee once had a hit he played on the cello called "Hello Cello." Maggie said she didn't personally know Eldee, but wanted to pay tribute to him because he was friends with her late father, Oscar.


John "South Side" Wright followed with some choice piano playing. John, accompanied by bassist Bill Terry and Calvin Mayfield on drums, told a story about how he once joined Eldee on a two month gig in Singapore that lasted six months. These three played "Route 66" and "Sentimental Journey."


Another superior Chicago vocalist – Tecora Rogers, followed Wright.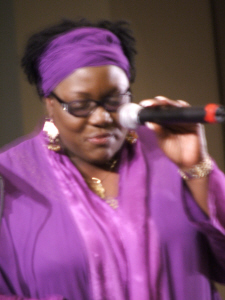 This was one of the finest performances of the night, as Tecora sang "Funny Valentine" from the heart. It was touching and silky smooth. She also spoke of playing with Eldee in Japan and Bangkok.


Another highlight of the evening was the return to the stage of Ari Brown (this time on his familiar tenor saxophone),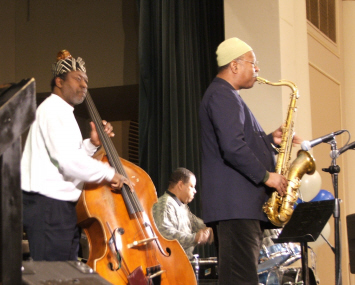 Ed House on tenor sax, Terry Morisette on drums, one of Chicago's best bassists – Yusef Ben Israel, and the master on the piano – the great Willie Pickens.

What a special set! There's none better on the 88s than Pickens. He's so respected, and during his solos, Ari's eyes were were fixed on Willie's rapid-fire piano playing. What a sight!!!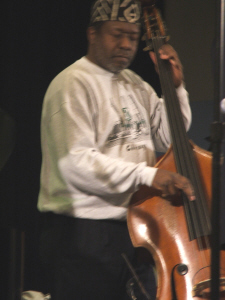 Pickens, Morisette and Israel also played as a trio.


One surprise of the night was the vocal rendition of "Misty" by Sheryl Campbell. This writer had not previously seen her work and was quite impressed with her performance.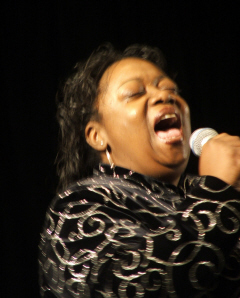 She was accompanied by Chaney, Holt and Israel.

Chaney spotted another fine piano player in the audience and invited Roger Harris on stage where he was backed by Redd Holt and Jimmy Willis on a first-rate rendition of "Watermelon Man."


Another special moment during the night was the vocal tribute by Dee Alexander. This writer always enjoys being in the presence of this exceptional vocalist, and this night was no exception. Dee was accompanied by some of her favorite friends in Leon Joyce, Jr., on the drums, Larry Gray on bass, and the aforementioned Miguel de la Cerna on piano.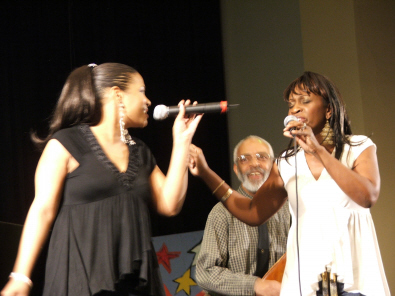 Dee is such a professional, as was observed during her first number – "Angel Eyes." Dee scatted, snag and chirped showing her amazing expansive range, when suddenly the sound system went silent. Observing this, Dee continued, while making unique motions with the microphone; and when the sound returned for the last few bars, Dee finished the song without missing a beat.


Redd Holt again returned to the stage, beginning a solo while reminiscing about Eldee, before being joined again by Jimmy Willis on bass, and Holt's protégé Joe Hurt on piano. Hurt displayed excellent skills on the keyboard, and has a bright future ahead of him.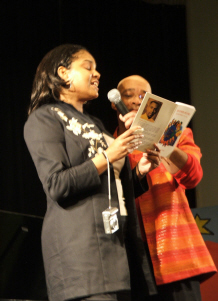 They played a fun tune called "Whack Whack."


Before concluding the night, two young female vocalists who go by the name of Martin and Mitchell sang "Them There Eyes," and Route 66." Then as the long, but exceptional evening was beginning to wind down, Eldee's son – Tyree Young, thanked everyone for their support before he assisted his cousin in reading a poem written by Eldee in 1976. Tyree had discovered a book of poems written by his father upon reviewing Eldee's personal belongings - that were shipped to Chicago upon his death.


Finally, the Marshall Vente band concluded the evening with an array of music.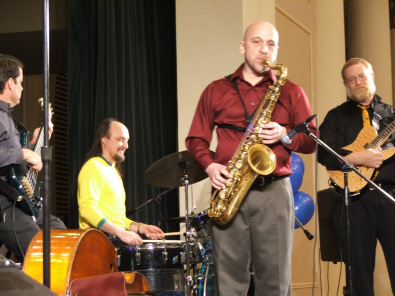 Marshall – an outstanding pianist in his own right - did quite a bit of work with Eldee over the past 25 years – recording 3 or 4 cds with Young in the process. He, of course, had many Eldee stories, but used his time on the stage with his five piece band and sparkling vocalist Greta Pope paying tribute to Eldee through music.


What a evening!! It was absolutely a jam session beyond expectations. To see masters like Ken Chaney, Willie Pickens, Ari Brown, Dee Alexander, Marshall Vente and others coming together to remember the talents of Eldee and pay respects to a fine human being is a reminder that he touched so many lives.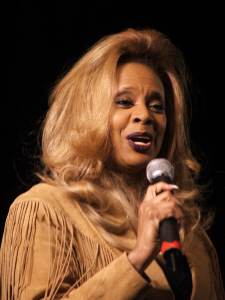 They all donated their time and were just happy to have been given the opportunity to help celebrate the life of a true Chicago jazz giant.


Chicagoans are blessed to have such an array of world-class musicians right here in this great city. Sometimes, one takes for granted the talent that resides in the Chicagoland; and it's on occasions like this night that one quickly reflects on the privilege that's afforded local jazz fans each night throughout the city to have an opportunity to witness them in person. God Bless You, Eldee!