Story by James Walker
Photos by James Walker & Robert Anderson (where noted)

Dee Alexander... What more can be said about this magnificent songstress that hasn't been already mentioned. Those in attendance at Tuesday evening's rescheduled Millenium Park concert certainly would agree that Dee was at her best. This was a special evening that Dee had planned for years, and she did not disappoint. Chicago's premiere jazz vocalist has the rare ability to make any song sound special. Her range is simply amazing, and to vocalize the songbook of both Nina Simone and Dinah Washington was well worth the three week delay, due to the violent storm that swept through Chicago on August 23rd.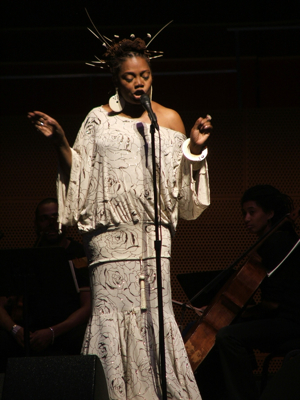 From the moment she walked on the Pritzker stage, she had the huge Millenium Park audience spellbound. Dee was elegantly dressed in a dazzling two-piece, off-white outfit, with a fishtail, flowing design that was absolutely stunning.

This was not only a concert, but a historical perspective of two of America's predominant jazz singers. Throughout the evening, Dee gave snippets of the lives of these two complex ladies, which allowed for an insightful look into their songwriting and lifestyles.

During the ninety-plus minute concert, Dee demonstrated her ability to rearrange and vocalize Nina and Dinah's songs without committing musical sacrilege. She has sucha beautiful instrument , that is clear, firm and focused, and permits her to accomplish this task seemingly with relative ease.

Actually, credit must be given to her longtime musical director and piano player, Miguel de la Cerna. De la Cerna does most of Dee's arrangements and is developing a reputation around Chicago as a top keyboardist in his own right.

Dee and Miguel weren't the only stars that night, however. The singer was accompanied by a nine-piece band, including a four-piece string section. Other sidemen included some of her favorite men: Leon Joyce, Jr. on the drums; James Perkins on the sax; Larry Bowan on trumpet; Steve Berry on trombone; and the young, talented Junius Paul on bass. Special mention must be given to Junius, as he stepped in for the ailing Harrison Bankhead with just one day's notice and did a splendid job. In addition, Walt Whitman and the Soul Children of Chicago accompanied Dee toward the end ofthe set with a couple of "hand-clapping, foot-tapping songs."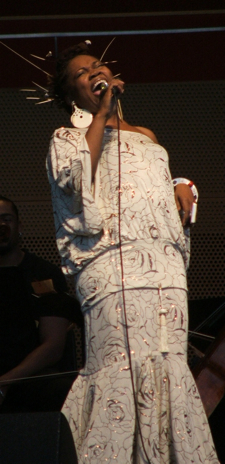 Highlights included Nina's "My Name Is," "I Loves You Porgy," and "Mississippi Goddamn." Nina was a social activist and wrote that song out of anger after the firebombing of a church in Mississippi that resulted in the deaths of four little girls.

Justice was also done to Dinah's "Better Earth," and "What a Difference a Day Makes." Also, Dee's interaction with Berry, Bowan and Perkins was fun to watch. Dee often would challenge each of these fine musicians with her vocal instrument.

What a grand evening that was had by all! The weather was beautiful and Ms. Alexander was as astounding as ever. Whether she is doing jazz, blues, R&B or showtunes, there is no comprable vocalist in the greater Chicagoland. Let's hope the City of Chicago and the jazz Institute make this an annual affair. Dee is worthy of the opportunity to showcase her skills, and the public deserves the privilege of such a grand performance. Perhaps it is time that someone recognizes that Dee Alexander is ready to front a big band at Orchestra Hall, Ravinia or the Chicago Jazz Festival. Her time has come.