Story and Photos by James Walker

The crowd starts coming in about 9:00 p.m. on Saturday evening, June 2nd, in anticipation of a spectacular evening of great music and fun to help Corey Wilkes celebrate his birthday at the Hot House. Shortly after 10:00 p.m., the fireworks began.

Corey is one of the most eclectic musicians Chicago has produced, and on this evening, his "Black Slang" group was in rare form.
This writer has seen this aggregate on prior occasions, and it's always a different set of performers at their collaborative best. Corey seems to have that infectious ability to extract near perfection from his bandmates and guest performers.

Corey, along with Will Kirk and Marcin Fahmy on keys, Anthony Capers on drums, Frankie Blaze on lead guitar, and his long-standing, trusted mate, Junius Paul on bass, and ever-present colleague, Jabari Liu on sax, wasted little time, as they began the first set with some explosive sounds. In addition, throughout the evening, they were joined by a trombone player and African "Jimby" drummer. Ironically, Corey described this opening tune as a "warm-up."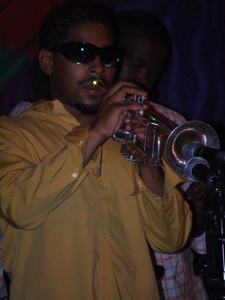 The crowd was in for an exciting evening of diverse music and dance.

Corey's Black Slang group is quite different from some of the jazz one might expect from Corey with other musicians, and they usually draws a much younger audience. This evening was no exception to this rule. Black Slang infuses Jazz, R&B, Poetry, Reggae, African Dance and Tap. They not only expose the audience to new art forms, they also afford young musicians an opportunity to perform with some of Chicago's premier musicians, while gaining invaluable experience and exposure in a world class venue like the Hot House.

Corey is such an innovative leader and mentor, and as always shares the stage equally with all involved with his gigs. One knows who the star is, but all have an opportunity throughout the evening the "shine."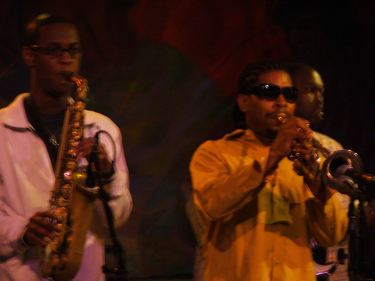 This evening, Corey's sidekick, Jabari Liu again demonstrated his continued growth, as he beautifully soloed throughout the evening, without being overbearing. In the past, Jabari was very long-winded and often played at one speed — fast and hard. When it's appropriate though, Jabari does take advantage of his ability to play with fluidity and speed. He has grown and matured over the past year and has a great future ahead of him.

During the first set, Corey brought out the first guest of the evening — a young vocalist from Ghana, West Africa, by the name of "Yaw." His rendition of Bob Marley's "I Shot the Sheriff" was very raw, but well done, even though it contained some expletives that could have been omitted.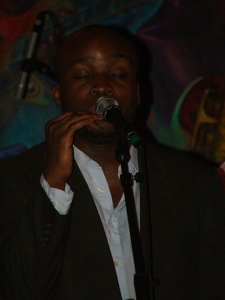 Nevertheless, this young baritone will be heard from in the Chicago music scene.

Lead guitar player, Frankie Blaze's solo at the end of the first set was reminiscent of the late, great Jim Hendrix. He's another talented young musician with a great future. Bassist Junius Paul is no stranger to the Chicago jazz scene. This evening, he put down his double bass and jammed on the electric bass guitar. No matter which instrument he performs with, he's always proficient. This evening, he was very comfortable with the bass guitar.

The first set was concluded with an African Dance performed by members of the Muntu Dance Troupe of Chicago, aptly led by none other than Michele Wilkes, Corey's wife.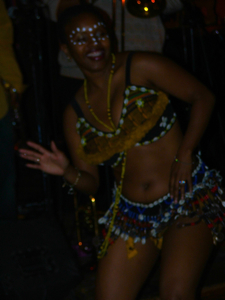 Michele is an exceptional dancer, and on this night, she demonstrated with skill and energy, that the Wilkes family has another talented performer capable of holding her own with anyone. Michelle, along with her dancemates, helped end this exciting set with some high-energy African dancing. Just watching these women dance wore this writer out. They brought the audience to their feet for a standing ovation.

As the Hot House struggles to remain open (recent financial problems have threatened to close this great international venue), performances like Corey's Black Slang will certainly extend its life. This concert was exceptional from start to finish. It's what we have come to expect from a Corey Wilkes gig. Chicago, take advantage of these opportunities to see Corey, because his national reputation continues to grow, and the city may not be able keep him locally based.

Happy Birthday, Corey!!!