Charlie Johnson

Cuatro
Chicago, IL
May 6, 2007
Story and Photos by James Walker

Cuatro's in the South Loop is the place to be Sunday evening for those who love jazz and good food. This past Sunday (May 6, 2007) pianist Charlie Johnson and his trio graced the stage during the dinner hour. Johnson was joined by Kurt Schweitz on bass and the incomparable Ernie Adams on the drums. This set normally kicks off around 7:00pm and runs until about 10:00 pm.

Charlie Johnson gets more out of the electric piano than most keyboard players.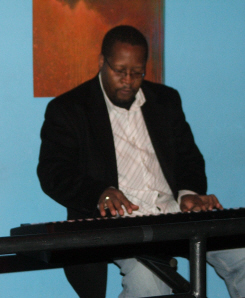 He literally extends his fleet fingers across the entire keyboard, producing a vibrant, yet sweet sound. This writer has previously seen him perform on the baby grand, and this is truly a sight to see. Although his fingers are running at a rapid fire pace, his facial expression hardly ever changes. He's always in complete control. Charlie never "abuses" his instrument to produce a beautiful sound. His rendition of Sam Cooke's "You Send Me," was so mellow and serene.

What a bonus to have Ernie Adams joining Charlie during Sunday's set.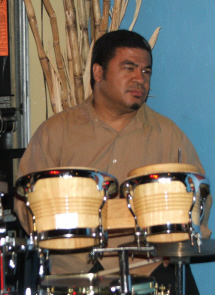 This writer was pleasantly surprised to see Ernie on the band stand for he is, without a doubt, one of the finest percussionists in Chicago. Ernie often will relinquish his drum sticks to simply rely on his hands and fingers to keep the beat on the drums as if they were congas or bongos.

Young Kurt Schweitz is a fine bassist, while playing either the electric bass or upright. This night he played both instruments with comparable skill. This writer believes he's more adept while playing the upright, as opposed to the electric.

Although this writer only caught one set this evening it was very well done. Unfortunately, at times, the trio had to compete with the dinner crowd chatter, which at times almost became a distraction. Nevertheless, this fine group of professionals remained in control as they continued to produce a fine musical set.

These young men can be seen throughout the Chicagoland area, all summer. Given an opportunity, check them out collectively or individually with other bands.
| | |
| --- | --- |
| Kurt Schweitz | Charlie Johnson Trio |
| | | |
| --- | --- | --- |
| | Ernie Adams | Charlie Johnson |
| | |
| --- | --- |
| Kurt Schweitz | Charlie Johnson |
| | |
| --- | --- |
| Charlie Johnson | Ernie Adams |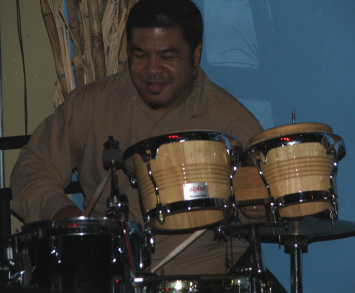 Ernie Adams
Check out Charlie's Cd

Check out Cuatro

Check out other recent concerts reviews and photos

Contact Brad Walseth and JazzChicago.net at bwalseth60@aol.com