Story and Photos by James Walker

While Chicago was in midst of one of the coldest spells in recent memory, New Orleans extraordinary saxophonist Donald Harrison and his band of young musicians were heating things up at the "Mardi-Gras Chicago-style" CAR-NI-VAL at Navy Pier on Feb 9th. Although this writer went to the CAR-NI-VAL expecting a concert, in actuality a full scale party broke out.

Harrison, who is often in Chicago performing at major jazz events and venues, displayed a different side to his musical genius. He danced, sang, and played congas - in addition to playing the sax. Harrison and his young sidemen (including a 17 year old keyboard player and a 17 year old bass player)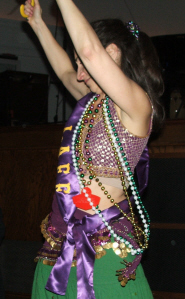 from the New Orleans Tipitina's Foundation had the capacity crowd in a frenzy by the end of the 2nd tune - the Meters "Cissy Strut." No, this surely was not your typical Donald Harrison gig of straight ahead jazz. This set consisted of a foot-stomping, hand-clapping, head-bobbing crowd that seemed to enjoy every minute of Harrison's performance.

About halfway through this "party," this writer -(having visited New Orleans on numerous occasions befroe katrina) felt as is he was back in the "Big Easy" during Mardi-Gras. The instrumentation and sound in Navy Pier's Grand Ballroom left a lot to be desired, but on this night, no one seemed to care. This audience came to not only hear the sounds of Mardi Gras, but to be actively and directly involved. At the end of this hour-long set, Harrison himself led a "Second Line" parade through the audience as the crowd joined in and danced.

Tha array of music played this evening demonstrated the depth of Harrison's repertoire.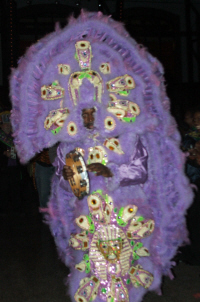 In addition to jazz, the group played R&B, funk, smoothjazz and even did a little "rapping" during this highly energetic evening. It's no wonder that Donald Harrison was contracted to perform for this special occasion. Harrison is a true ambassador for New Orleans, and if it has any chance of recapturing its pre-Katrina music days, Donald Harrison will be inrtumental in this revitilazation. His love for the city is quite evident and easily was seen and felt throughout his performance.

New Orleans keyboardist and vocalist Dr. John closed the evening with his laid-back set - which was sort of anti-climactic following Donald Harrison's "Hot" set. Perhaps it would have been more appropriate for Dr. John to open and allow Harrison to headline. This writer observed a similar phenomenon this past summer when the renowned Neville Brothers opened for Dr. John at Ravinia with similar results. Dr. John is just too easy-going to follow hot, Mardi-Gras style sets and maintain the enthusiasm of the crowd. Hopefully, in the future, concert organizers will take note of this for the sake of not losing the crowd before the end of the concert.

Overall, this was a fun night and the Mayor's Office of Special Events is to be applauded for making CAR-NI-VAL a part of Chicago's Winter delight.