Story by Brad Walseth
Photos by Jay Geneske



This isn't science fiction. There once was a northern land. The people of this land lived in separate tribes, each with their own customs and cultures. But the people of this land shared the common traits of greed and hatred and intolerance for their fellow man. They crossed an ocean to conquer and plunder, killing the inhabitants and enslaving the weak and disenfranchised.

Bill Frisell brought his unique and thought-provoking musical collage to Steppenwolf's 2nd annual "Traffic Jam" (a 3-week festival of music, language and performance)Thursday night in a hypnotic display that merged together multiple disparate music styles - from avant-garde soundscapes to traditional bluegrass to pop classics - into a mesmerizing panoply of tonal textures. Within the comfortable and intimate surroundings of Steppenwolf's Upstairs Theater, the lucky audience was treated to an evening of mystery, musicality and shimmering sonic surprises. Joined on this date by rising young violinist Jenny Scheinman and multi-instrumentalist Greg Leisz on lap and pedal steel and dobro, Frisell and friends spun out an entrancing string of post-modern folk songs that were at times frighteningly sad, and other times simply terrible in the awful beauty of their emotional outlay.

Starting off on a nylon string acoustic, Frisell later switched to a Telecaster electric guitar for most of the concert. Perhaps the most original guitarist in the world today, Frisell is certainly the one most concerned with the overall "sound" of the music he is making. Possessed of extraordinary technique, he subdues any desire for virtuosic displays of excessive "riffing" in the subtle service of the overall sonority. Utilizing the capabilities of pedal effects to enhance his palette, he tweaked and turned knobs incessantly - even between chords or notes in a song in order to enhance and change color and tone.

The land that the northern invaders overran was rich with spoils and the masters grew fat and even more powerful and ruthless. The customs of the old world carried forward and the serfs plowed the fields, dug coal from the mines, cut down the trees and built a railroad across the mountains to the far sea.

In contrast to many band leaders, Frisell often took the low path - providing a repeated, arpeggiated pattern as a base for his fellows to swoop and swirl over and around.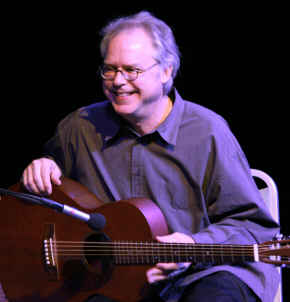 Scheinman showed considerable skill and an ability to veer from atonality into a Scottish reel on a dime (something that must come in quite handy working with guitarist Frisell). She often took the melodic lead, and her contributions were intelligent and sensitively crafted. Leisz's virtuoso technique on the slide was equally in display, as he took instruments generally associated with country music into entirely new and modern realms. Both artists followed Frisell's lead in trying to unlock all the sonic possibilities inherent in their chosen instruments. Nor were these two merely intent on adding harmonic color - both took turns providing rhythmic (and polyrhythmic) support, allowing Frisell the freedom to explore and improvise. The interplay between the three members bordered on synchronicitous; while the overall sound produced by a mere trio often reached near-symphonic levels.

But there was great sadness, for many were poor and overworked and did not share in the wealth, or were treated as property or pawns in warfare. They missed their families back in the old world, and played songs to remember and to assuage their loneliness and sadness and sorrow and guilt for their part in the injustices being perpetrated against the world and their fellow man. The songs of the tribes intermingled and joined with those of their southern brothers - who had been treated the worst - and they found temporary relief from their suffering in those songs.

This was an evening of exploration, examination and remembering - of discovering the commonality that runs through the music of humanity. Through the art of creation, a chaotic cacophony became an Appalachian bluegrass number, an atonal primal stew developed into a blues, a jig or a "folk" song. Ghostlike melodic fragments and pieces of themes broken into shards came forth out of the shadows and rose like smoke, circling in the air and taking form before folding unto themselves and dissipating back into the netherworld from which they had emerged. Nor was the music of recent Americana immune to the pervasive stream of human consciousness, as when the whirling void slowly took shape and turned into one of the most sadly beautiful versions you will ever hear of Bob Dylan's "A Hard Rains A-Gonna Fall" - with the guitarist seemingly exploring every harmonic chord voicing possible - and with a sub-current reminding us of the seemingly eternal struggle with warfare that exists even today. Another highlight was when the guitarist wound up a musical box and rubbed it on his strings while working his effects; almost without being perceived, the random atonality again formed structure - eventually turning into an utterly delicious deconstruction (in the best sense) of Brian Wilson and The Beach Boys' "Surfer Girl."

Haunting, at times scary, at times so beautiful and joyous as to bring tears to one's eyes, Frisell's music is a soundtrack to the past, present and future all rolled into a brief series of timeless crystalline moments. The pioneering artist continues his penetration into the depths of the human psyche by stringing together the threads that hold the entire history of musical form from creation through to a hopeful but uncertain future into a fascinating aural experience.

The mystery train runs on forever across a scarred and desolate plain. In the distant you can see the light from fires burning in the misty dusk of sunset. Surrounding the campfires, the soldiers play on fiddle and guitar to ease their frightful loneliness. The war goes on.