The Bad Plus

Old Town School of Music
Chicago, IL
Sept. 23, 2007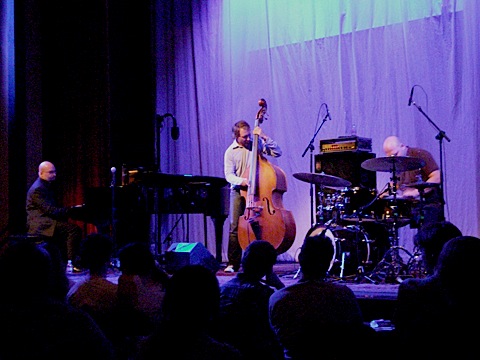 The Bad Plus
Story and Photos by Wade Vonasek

Given the task of coming up with a one-word description of jazz trio The Bad Plus, I would choose eccentric. Combining jazz roots with occasional pop and rock covers, high energy and a sense of humor, the group left the crowd at the Old Town School of Folk Music on Sunday night impressed and entertained. The set was heavy with material from the group's new album Prog (2007 do the math records), and ran the gamut from the measured pace and off time of "Giant" to the happy and jumpy "Thriftstore Jewelry" to jazzed-up covers of Tears for Fears' "Everybody Wants to Rule the World," Bowie's "Life on Mars" and Neil Young's "Heart of Gold," which was performed during the encore and provided the only vocals of the night, as the band harmonized on an a cappella breakdown.

These cats aren't lacking in the chops department either. Drummer David King was a near-constant ball of energy, yet dynamically controlled. Reid Anderson's acoustic bass sounded full and flawless. Pianist Ethan Iverson went from soulful to spastic, sometimes within the same song, and his sly, witty introductions to most of the songs were an added bonus. At certain points in the show it felt as if the group were about to crash and fall apart, only to have them bounce back into a perfect groove, hitting the ground running. The Bad Plus gave off the vibe that they really like playing together, and the intimacy of the Old Town venue really added to the experience, which was anything but bad.
Check out the Bad Plus' homepage

Check out other recent concerts reviews and photos

Return to jazzchicago home

Contact Brad Walseth and JazzChicago.net at bwalseth60@aol.com