Story and Photos by Brad Walseth

Another exciting step forward into the future of Chicago jazz music was taken Friday night at the HotHouse, as the Chicago Afro-Latin Jazz Ensemble played their sophomore gig in front of a full house. The brainchild of pianist/composer Darwin Noguera and trumpeter/composer Victor Garcia - the "CALJE" is an attempt to bring about a world class Latin jazz ensemble here in the Windy City. Darwin and Victor's plan is to bring together a band consisting of some of the finest musicians in Chicago to play hot, highly-stimulating arrangements of Latin and South American, and Cuban jazz music.

The CALJE's premiere last November was extremely entertaining, as well as a thorough success, and it was interesting to surmise as to what the group had in store for the audience this time. As hard as it was to imagine their topping their debut, the band came out firing away and immediately proved that they have been hard at work at scaling new heights in their musical presentation.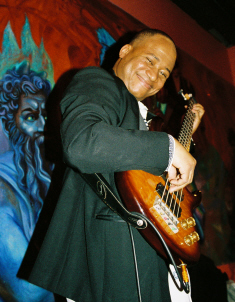 Opener "Send Eggs" blasted into orbit full of power and surprising changes that kept the audience off balance. The stellar trombone section of Craig Sunken and John Mose nearly knocked me off my chair with their ferocious presence, while Carlos Vega provided buoyant tenor work. Noguera's slippery synth work, Carillo and Garcia's trumpets, Eisen's baritone sax - all over a hard-charging rythmic barrrage: Victor Miranda on bass, Ernie Adams on drums, Danny Feliciano on congas, and timbale wizard Juan Picorelli - erupted in a nearly volcanic flash of energy.

The second song - "Mestizo" (or Vagabond) happily continued the trend with abrupt time, tempo and style changes - which showed clearly the growth in maturity and daring that this group is developing. Highlighted by Feliciano's conga explosion, the song is a foretelling of what seems to be a bright and interesting future for these young artists. Crowd pleasing samba extrodinaire "La Vaina" followed, while Noguera's lovely Debussy-reworking "Reverie" charmed with its beauty and the pianist's deft fingerwork.

Another suprise followed, as Victor Garcia's lovely wife, Lina Marie, took the stand. Not an attempt at nepotism - Mrs. Garcia has graced the stage with many famous Latin bands.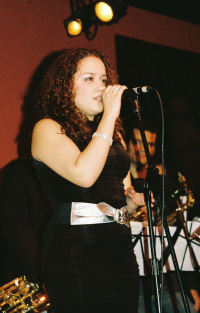 Singing a song made famous by Celine Dion ("I Surrender") as a hot, merengue - Lina Marie was simply fabulous. Despite being surrounded by a loud and wildly intense band, the singer's sense of pitch was uncanny. And the singer's appearance functioned as a nice change of pace to the generally instrumental evening. I hope we will see more of this exciting and talented vocalist at future gigs.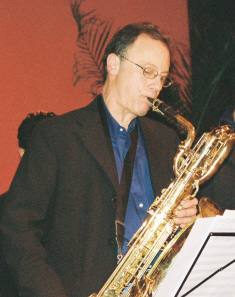 The second set continued in the same fiery manner, with a supercharged Bossa Nova (Bossa Pegajosa), an incredible Spanish-styled number that featured a solo duel between John Mose and Victor Garcia, and a wonderful song Victor Garcia wrote for his newborn son ("Para el Rostro de mi Anhelo (Timba)"). Lina Marie sang another song with considerable success, and Greg Ward on Alto, Craig Sunken on trombone and Freddie Rodriguez on trumpet played enjoyable solos. Eisen and Vega doubled on flutes which added to the ambience. And of course, throughout the concert, Tito Carillo performed with the energetic zest and incredible skill that has made him one of the best known trumpet players in the area. Meanwhile Adams and Miranda's drum and bass duo is one of the tightest around.

With musicians of this caliber playing such hot arrangements - it's easy to see why the band sounds so tasty and good. As John Mose said to me during intermission - "It's a pleasure playing in this group because this is a band made up of players. Usually in a band there are a couple guys who are faking it, but in this band everyone can really play." With the abilities of the players, the vision and drive of co-founders Garcia and Noguera, and the evident desire of this band to climb even higher pinnacles in their playing and arrangements combine together and lead me to believe that there is nothing stopping this band from achieving their goal of becoming the world class Latin jazz band that Chicago both needs and deserves.


| | |
| --- | --- |
| Darwin Noguera | Victor Garcia |
| | |
| --- | --- |
| Ernie Adams | Darwin Noguera |
| | |
| --- | --- |
| Victor Miranda | Steve Eisen, Greg Ward, Carlos Vega |
| | |
| --- | --- |
| Juan Picorelli | Tito Carillo & Victor Garcia |
| | |
| --- | --- |
| Craig Sunken & John Mose | Danny Feliciano |
| | |
| --- | --- |
| Lina Marie Garcia | Danny Feliciano, Ernie Adams, Juan Picorelli, Tito Carillo |
| | |
| --- | --- |
| Craig Sunken & John Mose | Steve Eisen, Greg Ward, Freddie Gonzalez, Carlos Vega |
| | |
| --- | --- |
| Victor Miranda | "CALJE" |
Read our interview with Darwin and Victor

Check out our coverage of last November's CALJE premiere

Check out the HotHouse

Check out other recent concerts reviews and photos

Contact Brad Walseth and JazzChicago.net at bwalseth60@aol.com