Rob Mazurek
Exploding Star Octet

Green Mill Lounge
Chicago, IL
Nov. 9, 2007
| | |
| --- | --- |
| Rob Mazurek | Nicole Mitchell |
Story and Photos by Brad Walseth

The Green Mill was the place to be in Chicago Friday and Saturday night for those interested in hearing some of the most exciting music in the modern jazz scene.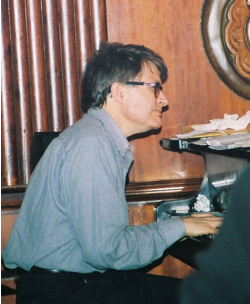 Former Chicago avant garde cornetist, composer and multimedia artist, Rob Mazurek returned to the city to present an exhilarating performance of adventurous music that was sheer delight for those willing to expand their ears and minds.

Mazurek's Exploding Star Orchestra set was one of the highlights of this year's Jazz Fest, and one of the best concerts of the year. The throbbing pulsating rhythms and polyphony combined with moments of quiet and chaos in a dazzling show that was breathtaking in its objectives to stretch the confines of musical form.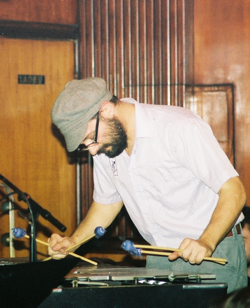 The stripped down configuration featured at the Green Mill this time was an all-star cast of pianist Jim Baker, flautist Nicole Mitchell, saxophonist/bass clarinetist Matt Bauder, vibraphonist Jason Adasiewicz, Jeb Bishop on trombone and Frank Rosaly on drums.

With Mazurek leading the charge on brass and computer, these stellar musicians roared through an evening filled with sonic treats and surprising tangents. Straddling the line between the improvised and the composed, Mazurek's compositions are artful and intelligent without the cold mathematical bend that sometimes mars avant garde music.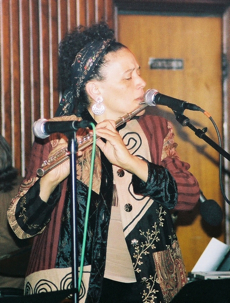 Taking liberally from their new release, "We Are All From Somewhere Else," this is music that sometimes swings, sometimes rocks,is sometimes clamorous, sometimes melodic. This is music that respects the intelligence of the listeners by making demands to awake from the usual slumber, while also respecting the musicians involved by giving them freedom within the structure to experiment and celebrate their individuality within the framework of the group.

The music may admittedly be challenging for many listeners, but clearly is not intended to pander to lower instincts in pursuit of popularity. That said, Mazurek's music is highly enjoyable on several levels. He and the entire band, who all added stimulating solos and inspired interplay, should be applauded for their efforts. This is music of the cutting edge and never has the blade felt so sweet.
| | |
| --- | --- |
| Rob Mazurek | Jeb Bishop |
| | | |
| --- | --- | --- |
| | Nicole Mitchell & Jason Adasiewicz | Matt Bauder, Rob Mazurek & Nicole Mitchell |
| | |
| --- | --- |
| Matt Bauder, Rob Mazurek, Frank Rosaly & Nicole Mitchell | Matt Bauder, Rob Mazurek & Josh Abrams |
| | |
| --- | --- |
| Jim Baker | Exploding Star Octet |
| | |
| --- | --- |
| Nicole Mitchell | Nicole Mitchell |
| | |
| --- | --- |
| Nicole Mitchell | Exploding Star Octet |
| | |
| --- | --- |
| Rob Mazurek | Matt Bauder & Rob Mazurek |
Check out Rob's homepage

Check out Rob's My Space page

Check out other recent concerts reviews and photos

Contact Brad Walseth and JazzChicago.net at bwalseth60@aol.com