Story and Photos by James Walker

Attending a Robert Irving musical experience is kindred to receiving an impromptu education while listening to great music. "Baabe" is very deliberate, with the intent of not only entertaining, but also educating his audience. This is exactly what he did at ETA's Monthly Music Monday set on Nov. 12, 2007. He's not only an exceptional pianist, but an arranger, composer and educator. Hs performance this evening was thought-provoking, while also being very enlightening.

It also didn't hurt that this virtuoso was backed by a very solid group of exceptional musicians. Ramsey Lewis' long-time bassist Larry Gray held down the bass line, while Charles "Rick" Heath, recently appointed the touring drummer for the hit Broadway play "The Color Purple" returned to Chicago to fulfill his commitment for this engagement, maintained the timing on the drums. Vocalist Sue Conway accompanied the group on several Baabe-arranged standards. She displayed a sparkling vocal instrument that was clear, firm and enviably focused. ETA's amazing kaleidoscopic environment with an intimate nightclub setting for their musical performance set the tone for the evening.

Baabe began the first set with Herbie Hancock's "Dolphin Dance." This former pianist with the late, great Miles Davis was very crisp on this number and throughout the entire evening. He wasted little time displaying his forward-thinking approach as the featured artist.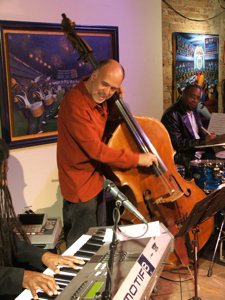 The trio's second tune, Thelonious Monk's "Well You Needn't" demonstrated Baabe's affinity for this great innovator of improvised music. Monk was perhaps the most misunderstood and complicated musical genius of Jazz sounds. Baabe seems to have the ability to bring Monk's music to life so that even the casual Jazz lover can understand and appreciate.

Both Larry Gray and Rick Heath had excellent solos on this tune. Although this trio had never played together as a unit, being the professionals that they are, produced an evening of seamless music. Heath was "smooth" on the skins as he usually is.

The third song of the night was an Irving original composition called "October." That tune was recorded on his CD that was released in Japan several years ago, but never released in the States. This was a very beautiful ballad.

On the next selection "Fire Flower," Rick Heath had a feature solo that allowed him to demonstrate his rapid-fire fleet fingers. He does this with remarkable control and skill without distorted facial expressions that are associated with many drummers.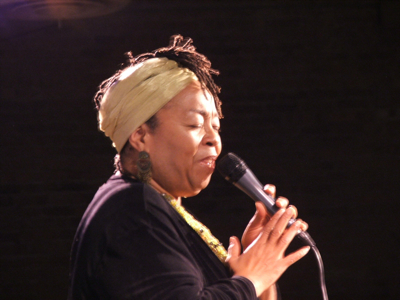 Vocalist Sue Conway joined the fray to sing an Irving-arranged hymn from the '20s entitled "Divine for the Spirit." Larry Gray's usage of the bow on this number was very complementary and well done. Again this tool is often absent from the repertoire of many bassists. Sue also joined the group during the second set to perform a Buster Williams composition that Baabe arranged called "What Time It Is." Sue did an excellent job of scatting, singing and just improvising. At one point she developed such a comfort level that enabled her to abandon the written lyrics and just sing. This was one of the evenings highlights.

Before concluding the evening of exceptional music, "Professor" Irving donned his teaching hat and gave a historical perspective on audience participation and improvisation. His thought was that everyone has vocals that can be put to song, thus soliciting the assistance of all, as it has been done in Africa for centuries. The appreciative audience obliged and seemed to enjoy the opportunity.

What an evening of fine music in an intimate "club-like" setting. ETA, located at 76th and South Chicago sponsors these sets each 2nd Monday of the month from 7:00-10:00 p.m. WVON Radio personality Cliff Kelley and Sue Conway host each performance. December 10th, Holiday Jam Session will feature Sue Conway along with world class keyboardist Miguel de la Cerna, bassist Chuck Webb and Khari Parker on percussion. Special guests are expected to join in on the fun. For details call 773-752-3955 or visit ETA's Web site at www.etacreativearts.org.