Story and Photos by James Walker

The 50 Yard Line Jazz sets are back with a bang. What previously was a weekly Thursday set at this longstanding club at 69 East 75th Street has returned as a weekly set each Wednesday. Different day, but same fine results.

On Wednesday night Oct. 31 before a sparse but appreciative crowd, the Ken Chaney Quartet did what they do best - play sweet music without over exaggeration on each note. All four musicians play parallel parts that work together and never sound busy.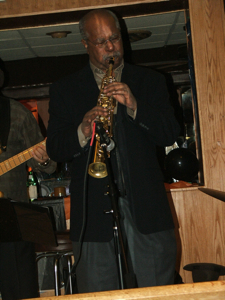 Chaney, perhaps one of Chicago's finest, yet relatively "unknown" keyboardists put together an aggregation made up of some of Chicago's seasoned veterans with newcomer Makaya McCraven holding down the beat on the drums. Ari Brown took his place behind his familiar tenor and soprano saxophones, while Frank Russell wailed away on the electric bass. These two ensemble members are not only among the area's most accomplished instrumentalists, they are also esteemed bandleaders and composers in their own right. Although in this evening they were performing as "sidemen," bandleader Chaney, being a veteran without an ego did not inhibit his fellow bandmates from sharing in the spotlight.

They opened the first set with the beautiful and timeless Henry Mancini standard "Days of Wine and Roses," the theme song of the movie of the same title. Ari Brown's patient and thoughtful solo on this piece was impeccable. Ari always is in complete control as he blows with a relaxed approach.

During this set, Chaney featured some new music from his current Cd "Spring Thing." Chaney soloed on an original from this Cd entitled "You Don't Know What Love Is." Pursuant to his style, Chaney didn't attack the keys on this song, he simply glided across the 88s with the greatest of ease.

Ari Brown was featured on another Chaney original "Bronzeville Blooze." Brown stepped up the pace on this tune with some hard bop blowing, reminiscent of the days of the "old school Juke Joints." Althogh Brown played mostly mid-tempo on this set, he really had the audience demanding more at the end of this tune. Also on "Bronzville Blooze," Frank Russell demonstrated why he's considered one of the area's finest electric bass players. When Frank is playing a solo, he really is into every note. This is evident by his facial expressions, whie he gains energy and ideas as he forges ahead.

The band opened the second set with their rendition of "Autumn Leaves." Chaney soloed on this tune, gently squeezing maximum sound out of each key. This was followed by another Chaney-penned composition "Hit Me," which again featured Brown and Russell.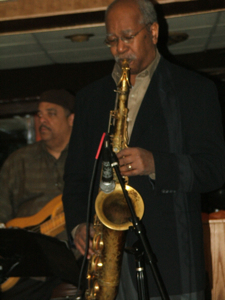 Russell really knows how to make the bass "talk," and on this number he did just that. He was perhaps at his finest on the next tune, "Summertime." This song was played in a "Spanish Motif" with a flair for romantic inflection. The crowd was delighted with this song, truly one of the night's highlights.

On "Summertime," Brown soloed on the soprano sax. This writer hadn't previously seen Ari on the soprano as much as he was on this evening, and it was a pleasure seeing him play it with ease and expertise.

Young drummer McCraven seemed to really be at home playing with these Chicago veterans. He was featured on several tunes, but perhaps was at his best when using the brushes on "2 Degrees East and 3 Degrees West." This young man has been gigging with some of Chicago's "heavyweights" lately and is carving his niche into the local Jazz scene.

Yes, the 50 is back!!! This is another Carolyn Albritton production (Carolyn also produces the Sunday night Checker Jazz set at the Checkerboard Lounge in Hyde Park) and a "must see" event on the South Side. Future "50" sets include Avain Hightower (Nov. 14), Bill McFarland and the Chicago Horns (Nov. 21) and Reginald McCants (Nov. 28). Music begins at 7:30 pm.