Frode Haltli Quartet

Cultural Center
Chicago, IL
Nov. 11, 2007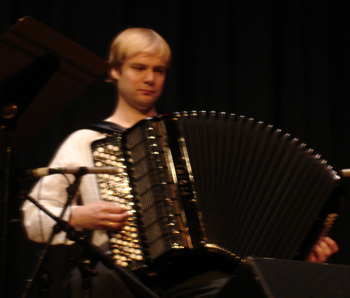 Frode Haltli
Story and Photos by Brad Walseth

Norwegian accordion virtuoso, Frode Haltli brought his quartet to Chicago's Cultural Center in support of his new recording, "Passing Images" (see our review here). Joined by Daryl Harper on clarinet, Nils ěkland on viola and hardinger fiddle, and vocalist Maja Ratjke, Haltli gave the Chicago crowd a quick trip to the fjords.

Opening up solo with the lovely introspective Psalm, the others soon joined in and presented this "evening hymn" with grace and sensitive interplay. "The Letter" is based on another traditional tune and features a catchy melody. But Haltli is interested in expanding traditional folk melodies into atmospheric and avant garde directions.

This direction took its furthest flights during Ratjke's "Passing Images," where the deconstruction of a folk melody revealed itself to be explorations in the manipulations of air through breath, silence and vibration.

No less intriguing were "Lyrisk vals" and "Vandring," where Haltli's astounding wide range of sounds from the accordion were augmented by dynamic interplay and contributions from the other musicians. ěkland's hardinger fiddle (a nine string instrument - with four regular and five sympathetic strings), and Harper's sweet-toned clarinet danced subtly to the music, while Ratjke added clicking and whistles along with more traditional vocals.

A quick stop in Chicago this time, let's hope Haltli and his quartet get a chance for a longer stay next time.
| | |
| --- | --- |
| Daryl Harper, Frode Haltli, Nils ěkland, Maja Ratkje | Nils ěkland |
| | |
| --- | --- |
| Frode Haltli | Nils ěkland & Maja Ratjke |
| | |
| --- | --- |
| Nils ěkland | Frode Haltli Quartet |
| | |
| --- | --- |
| Frode Haltli Quartet | Maja Ratjke |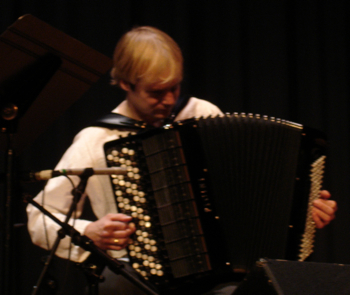 Frode Haltli
Check out Frode's Web site

Check out other recent concerts reviews and photos

Return to jazzchicago home

Contact Brad Walseth and JazzChicago.net at bwalseth60@aol.com