Story by James Walker, Jr., Copyright 2010

The 30th edition of Geraldine de Hass's Jazz Unites annual festival on the Shores of Lake Michigan was another grand success. With headliners like saxophonist Lou Donaldson and world class vocalist Dianne Reeves and two days of beautiful weather, no wonder thousands of jazz fans swarmed the festival grounds to take in the sights and sounds jazz at its best.

Although many in attendance complained about the new policy that prohibited spectators from bringing in food or drink, by Sunday's concluding segment featuring Dianne Reeves, all seemed not to mind the new format. This policy was instituted to defray expenses by allowing vendors to sell their food and goods.

This listener arrived on Saturday and The Hector Silveira Sextet was warming up the crowd with their infectious Latin-tinged sounds. Hector was followed by Henry Johnson's Organ Express. Guitarist Johnson was assisted by his long standing bandmates of drummer Greg Rockingham, saxophonist Peter Roothaan, and organist Chris Foreman.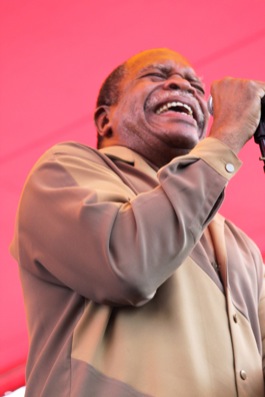 Highlighting this set was an original, "Blues for Ruby." This number was dedicated to Jazz aficionado Ruby Rogers. Their version of "Walk on By" was a crowd pleaser and Johnson promised to include it on their next CD.
Chicago legendary R&B and Blues singer Otis Clay brought back a few memories with songs like "Walk a Mile in My Shoes", and "Love and Happiness." Clay has been a Chicago favorite since the 60s and still knows how to excite a crowd.
TV and Radio personality Merri Dee made "We Love You Madly" award presentations to bassist Eddie de Hass, and Lou Donaldson and Von Freeman in absentia before the lovely and talented Joan Colasso and her quartet thoroughly entertained the crowd with some classic numbers. Joan was at her best and was backed by bassist Chuck Webb, drummer Ernie Adams and musical director/pianist Larry Hanks.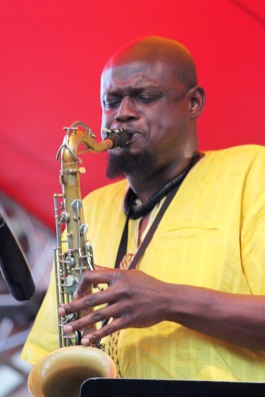 Her rendition of the Shirley Horn hit "Here's To Life" was simply special.
Flautist Nicole Mitchell and her Black Earth Ensemble rendered a set full of originals , including a number written for First Lady Michele Obama entitled appropriately "South Shore." She was adequately supported by saxophonist David Boykin, one of Chicago's most underrated tenor man.
The evening came to a climatic conclusion with the witty and talented saxophonist Lou Donaldson.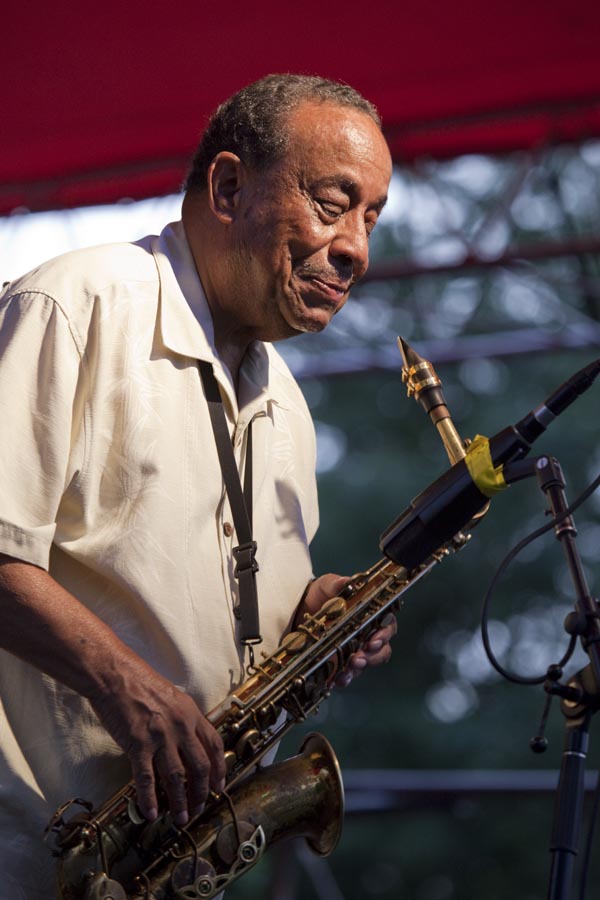 Lou brought his quartet to Chicago and they certainly earned the feature position with an array of tunes including "Wonderful World" (with Lou singing), "Whiskey Drinking Woman," "Bye Bye Blackbird," and "Softly as in a Morning Sunrise." Everyone left the first day's activities in great spirits anticipating the same for Sunday.
The beginning of the second day got off to a slow start as heavy clouds and steady rain hovered over the shores of the Cultural Center during the early hours , limiting the crowd to a few dozen as Blues vocalist Nellie "Tiger" Travis opened her set. Nellie, considered by many as the reining "Queen" of Chicago Blues did her best to jump start this slow arriving crowd. By the time she concluded her set with "Proud Mary," the sun had burst through the clouds and began bringing in enthusiastic fans by the hundreds.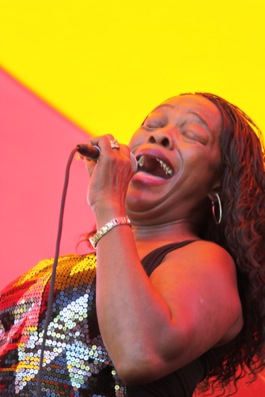 Trumpeter Corey Wilkes, recently returned to Chicago from a month in Europe, brought his "A" team to the stage including drummer Charles "Rick" Heath, bassist Jack Zara, keyboardist Greg Spero, and his long-time musical partner, saxophonist Kevin Nabors.
It's always a pleasure seeing these cats jam, as they play so well together. This day's set included extended version of "It's About That Time," and "The Core." Each member had ample opportunity to showcase their skills before this ever growing appreciative crowd.
Vibraphonist Andre Earles , a relative unknown, was a pleasant surprise as he "unleashed" pianist/guitarist Rob Block onto the crowd. Block is an extremely talented musician who usually plays both piano and guitar during his performances. Their version of "Poinciana" was well done and the highlight of this set.
That brings us to the absolute main attraction of the weekend, Ms. Dianne Reeves. By the time this Diva made it to the stage for the final act of the night, not a blade of green grass could be found on the festival grounds. It was jammed packed from the stage to the lakefront. All anxiously awaited this superstar.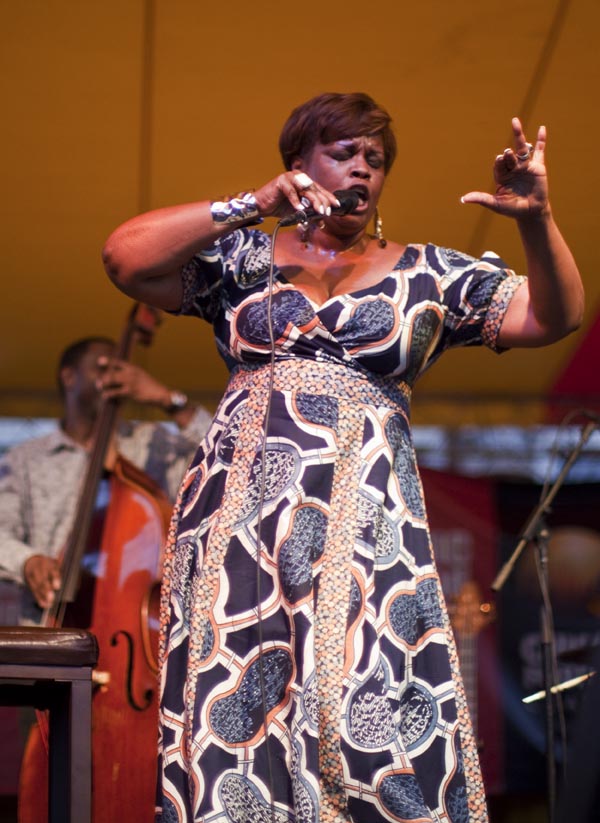 She did not disappoint!! From the first utterance from her voice on "Twelfth of Never" with scatting and singing, she immediately garnished the attention of the audience and was in complete command. Her range was unbelievable and so crisp. With or without a mic, she could be heard over the entire park. Dianne was backed by her exceptional band of drummer Peter Martin, bassist Reginald Veal, keyboardist Terreon Gully, and world class guitarist Romero Lubambo.
Dianne's a story teller and interjects life experiences with her songs. She makes it personal and easy for all to relate to. Her instrument is impeccable and no wonder she's considered the greatest living jazz singer. She makes it appear so easy , but that's because she's a unique talent. By the time she concluded with" Patient", all left this wonderful festival completely satisfied.
Congratulations again to Geraldine de Hass and the Jazz Unites volunteers for another very successful festival. Even with the food and drink policy changes, this year's festival was one of the best attended by this listener.Let's hope that this annual affair will continue on the shores of South Lake Shore Drive.