Story and Photos by James Walker, Jr.

THEY'RE BACK!!!!!!!! Hyde Park Jazz Society returned to their "home" at Room 43 after being temporarily absent from this popular South Side room for several months. Saxophonist Ron Salter and "The Most Wanted" had the honor of performing before a capacity and rejuvenated crowd this past Sunday. Joining Ron were keyboardist Roger Weaver, drummer Mel Davis and veteran guitarist Larry Frazier. The well respected Frazier has worked with such jazz giants as Sonny Stitt, Dizzy Gillespie and Dexter Gordon.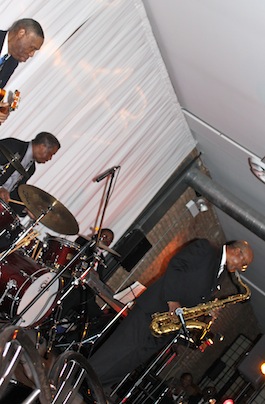 As jazz aficionados arrived for this special occasion, the atmosphere within this cozy room was like a reunion. All seemed to be sincerely relieved to be back to the venue that has been the home for the Hyde Park Jazz Society for the past nine months. Norman Bolden, Room 43 owner welcomed all as he, Jazz Society President Charlie Thomas and Secretary Judith Stein briefly spoke to this large gathering.
Salter dedicated the performance to the late bluesman Sonny Sills, who encouraged him in 1996 to return to his jazz roots after having not played his horn for 30 years.
Their first set consisted primarily of old melodic standards that were well appreciated by this toe tapping crowd. Such classics included "Day in The Life of A Fool," "God Bless The Child" and "Misty." Salter experienced his finest moments on "God Bless The Child" as he "snaked" his way through the crowd to the delight of all assembled.
The fleet fingered Frazier demonstrated during the entire first set why he has been such a respected sideman for some of the country's outstanding leaders. He was simply exceptional on every number while hitting his peak on "Misty."
Special mention must be given to keyboardist Roger Weaver who performed double duty as he maintained the bass line on his instrument while effectively revealing a melodic ingenuity that allowed him to react in the moment to Salter's accents.
There wasn't anything deep about this set. Just good old-fashioned melodies being played to the satisfaction of this "old school" audience.
Welcome back Hyde Park Jazz Society. For detailed information about future events, refer to their newly designed website at www.hydeparkjazzsociety.org.