Story and Photos by L.A. Emenari III

When considering Charlie Parker would have been 90 years old in August 2010, it puts life's blessings into perspective. The 1950s, after-all, seem more than many lifetimes ago when Bird sunk into eternal slumber. With the median average life expectancy for African American men today being 73, Bird's early demise at 35 was unusual for any era.

None-the-less in keeping with those blessings, relative youngster Rajiv Halim and his also youthful cohorts did themselves and Bird quite proud. Only days before Bird's celebrated birthday, on a misty Thursday night down at the Velvet Lounge, Halim's quintet lit up the jazz universe with some stratospheric sounds from yesteryear above and beyond. They spoke in the not too ancient herald tongues of the bebop language with a renewed freshness and mined fervor.

Making a name for himself, the alto saxophonist has been gaining steady ground around town as perhaps one of the best and brightest of jazz players in some time. (Halim along with another young saxophone wonder, Dudley Owens have taken a back seat to no one). The quintet's Charlie Parker tribute that night couldn't have been a more perfect setting. Not three months removed from the late owner Fred Anderson's death, housed in the Velvet are photos and portraits of Bird draping the rooms walls like patron saints symbols warding over the comings and goings of all that enter. Ironically Anderson's first venture as a club owner some 20 odd years hence was naturally christened in honor of his musical hero, "The Birdhouse."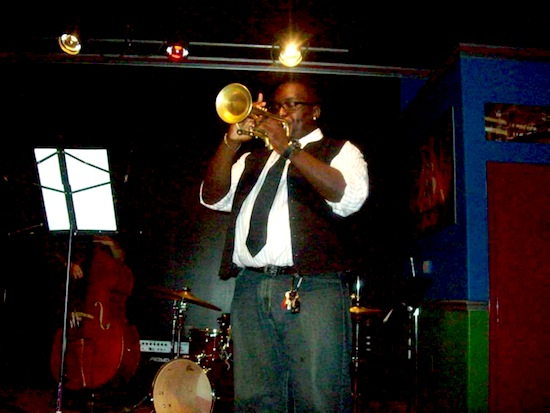 Lest we forget impresario Joe Segal's foresight designating each and every August since Bird's passing "Charlie Parker Month", it is a proverbial cold slap upside the head to awake, rise and shine - and recognize the true genius and importance of such a significant chapter and man in America's history.
Going about the business of keeping the flame, Rajiv Halim's group "with no shame in their game," as is said in the hood, did just that! They took care of business.
The quintet's rhythm section - highly tight and swinging note for note - includes bassist Andrew Voight's insightful, bountiful buttress, along with drummer Xavier Breaker holding it down - and they take a back seat to no one. Breaker, a new name to these eyes and ears is a smooth whirlwind of motion and rhythm. Not overwhelming, but yielding that right touch to command torrents of thunder and no-nonsense ease of swing, he called to mind the outright back beat bashing of a Jack DeJohnette, and the downright groove of a Papa Jo Jones and J.C. Heard. Breaker has the right name for a drummer, because he damn near broke open the drums with pure movement and able grace. He's a very musical drummer as well, who listens to every nuance of band-mates, particularly that of pianist Michael King, whom he seem to zero in on every step of the way.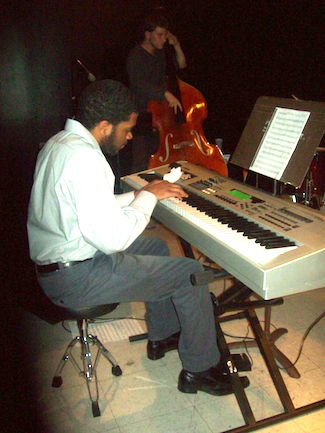 King is also a new name and someone to watch out for. He is a thought-provoking soloist who seems to be content investigating the symmetrical harmonic intricacies of the music's melodic content. He takes chances and seemingly devilish dares at times that can throw one's sensibilities into a cacophonous tizzy. He's very much akin to the intellectual vices of an Andrew Hill and/or atmospheric Herbie Hancock. King forces you to listen carefully, and in this regard he can be somewhat mysterious, oddly frustrating, yet hip and sparklingly original.
Out front is Halim's musical soul mate in trumpeter Marquis Hill. One could ask for no more of a complimentary partner. Hill is world class talent. No question about it. He can conjure up images of the brawny bluster of Lee Morgan as well as the searing no holds barred note bending rapidity of Chicago legend Billy Brimfield (the late Anderson's sparring foil). Hill would easily fit the front line of any Jazz Messenger band of any era. He is quite a joy to hear.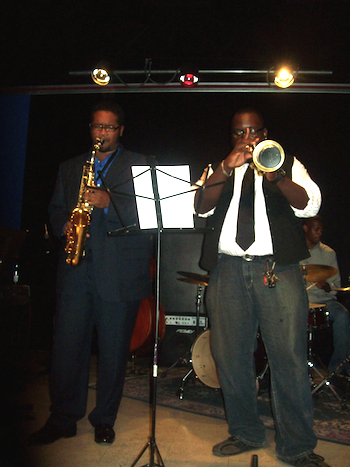 Leader Rajiv Halim's distinctive quality is of that an attentive listener and all aware presence. Armed with a big fat, beautiful sound akin to long gone masters like Cannonball Adderley, Halim's thrilling solos can fill the heart, mind and any room (with or without air), with a joyous revelry and emotive fluidity. Halim has a take-no-prisoner approach - something very much like Bird did - playing every solo with undeniable passion and artistry. A young master in the making, Halim seems to breeze through a program of Bird fare such as "Passport" and "Chi Chi" and several other long shelved chestnuts. He is the delightful balladeer and soulful wailer on originals such as "The Hardworker." He is fluid with a creative stream of consciousness that comes from some unknown wellspring within. He is an incredibly thought provoking and insightful soloist.
With the quintet's median average age hovering around 30-years-old, there is no limit in sight. That is a real blessing. Charlie Parker tributes will abound, and so will picturesque landscapes of Ellingtonia to Ornette to maybe even vistas of the late Fred Anderson. We can only hope so, for the music is in the artistically able bodied head, heart and hands of Rajiv Halim and his men.
Check out all of the jazz happenings at the Velvet Lounge at their Web site - http://www.velvetlounge.net/ .