Story by James Walker, Jr.
Photos by John Broughton, (and James Walker, Jr. where noted) Copyright 2010

After having experienced difficulties traveling to Chicago from Kansas City due to inclement weather last Friday, Brown and his top shelf band appeared to look a little exhausted as they began setting up for their first of two nights at the fabled Green Mill on the far north side of Chicago. Their late arrival in Chicago on Friday prevented them from showcasing their skills on the 11am broadcast of Channel 7 ABC News. Perhaps that was incentive for them to make up for that missed TV opportunity in Brown's hometown by performing at a level this listener had not previously witnessed.

And why not. Brown was returning to Chicago for the first time since the release of his highly successful CD, The Cycle Of Love. He's been touring with his band mates of bassist Solomon Dorsey, drummer Joe Blaxx, longtime partner saxophonist Derek Douget and fellow Chicagoan pianist Chris Robb. Brown has been performing with the aggregate for several years and was the unit that collaborated with him on this new project.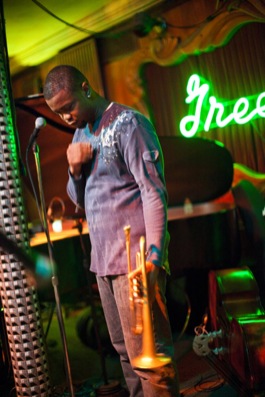 As is usual at the Green Mill on Fridays, a standing room only crowd(including his proud parents) assembled by the 9 pm start time of the first of three sets. As lethargic as the band appeared before this gig, they immediately became energized the moment they hit the first note of "Fly By Night," and it was obvious that this would indeed be a very special evening. Maurice and Douget each began with inspiring rapid action solos, but it was pianist Chris Robb who grabbed the attention of the audience with the first of his many exceptional solos. Chris is an outstanding pianist and vocalist, but never has this listener observed the level of perfection that he displayed on this occasion. Chris was in "the zone," and fed off of the energy of the crowd that responded enthusiastically to his every note all night long.
"Good Vibrations" followed with Chris again standing out while Maurice and Derek continued to play with the vibrant spirit that one has become accustomed to from this dynamic duo. This mid tempo number also allowed Maurice to demonstrate the softer side of this "big bopper." Throughout the entire first set, the group played almost entirely from the order of the CD with Maurice giving narration about the significance of each number. On "Misunderstood" Maurice blew fast,bright flourishes from the top with his signature bold attack on each note that almost takes the breath away from all listeners.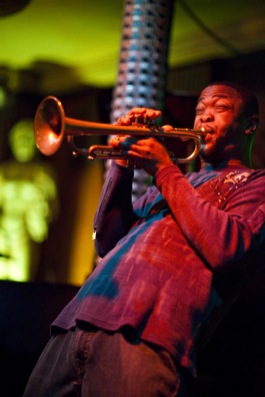 The only non Brown composition of the evening was their nice arrangement of Duke Ellington's "Sentimental Mood," which allowed the audience a snippet of Robb's vocal instrument. He has such a lovely voice and demonstrated it on this song with Brown blowing a very sensuous muted trumpet. The only other non-Cycle Of Love number played during the first set was "It's A New Day" that was taken from Brown's first cd, Hip To Bop. Douget was at his best on this number as he reached a peak making his tenor sound like a alto or soprano when he reached for those high notes while Brown was hitting "stratospheric" notes that's reminiscent of fabled trumpeter Jon Faddis. They concluded this set with "Daydreams," which again featured Brown, Robb and Douget.
The 2nd set was as entertaining and artistic as the first. They repeated a few Cycle of Love numbers from the first set in addition to showcasing bassist Solomon Dorsey and drummer Joe Blaxx on "Caravan." Dorsey even vocalized with a little scatting. on this number to the surprise of this gleeful crowd. Although these two do not receive the accolades of their three colleagues, they too are excellent musician and keep the beat and time of the band moving throughout the evening. This is such a tight group of musicians who play so well together in a seamless manner. Their rapport is very evident by their body movement on stage and it's such a pleasure to watch them perform. Again, congratulations Mobetta on an exceptional appearance at the Green Mill and for the outstanding work you have done on your new cd - Cycle of Love. This is one piece of music that belongs in all true jazz aficionados collection.