Filmmaker and jazz greats bring
the silent film into modern times
"Louis"
Symphony Center
Chicago, IL
August 25, 2010
| | |
| --- | --- |
| Anthony Coleman as Louis Armstrong | Shanti Lowry (center) as Grace Lamennais |
Story by Tony Bonyata
Publicity Photos
File photo of Wynton Marsalis by Phil Bonyata

While the thought of making a silent film in this day and age might sound like an absurd concept - film director Dan Pritzker has not only managed to successfully breathe new life into this long-lost form of entertainment, but with the help of a talented cast of actors and a remarkable 12-piece all-star jazz ensemble - led by bandleader Wynton Marsalis and renowned pianist Cecile Licad - he's created a visually and sonically stunning work of art.

Last Wednesday Pritzker's silent film "Louis" made its world premier at Chicago's grand Symphony Hall to a packed house. The film is based on jazz legend Louis Armstrong's youth in the red light district of New Orleans known as Storyville at the turn-of-the-last-century. And it's this visually arresting backdrop of grand bordellos, gritty back-alleys and surreal above-ground cemeteries where the story of Armstrong's unbridled passion to play the trumpet as a child unfolds. Academy Award-winning cinematographer Vilmos Zsigmond also balances a perfectly fine line between paying homage to the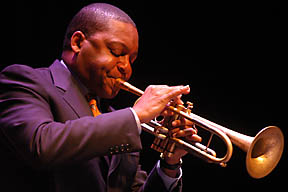 classic stylings of silent film and offering new and creative cinematic techniques (most notably when the camera sweeps through the various rooms of a large brothel filled with prostitutes and their clients sensually dancing their way towards the implied acts to follow. It's a wonderfully choreographed scene with Zsigmond's fluid lens turning in the prize role).

But as gorgeous as the visuals were, this production was made all the more arresting with Marsalis and his jazz ensemble's striking performances. While Licad performed romantic compositions from 19th century New Orleans pianist and composer Louis Moreau Gottschalk, Marsalis and his band turned in spirited jazz compositions from Jelly Roll Morton, Duke Ellington, Charles Mingus and others that perfectly complemented Zsigmond's varying film rate speeds, surreal dream sequences and scenes where color slowing seeped into otherwise monochromatic canvases.

The actors were also expertly cast for the stylings of this project. With just the right combination of playfulness, honesty and desire, Anthony Coleman was a perfect choice to play the lead role of the young Armstrong. The lovely Shanti Lowry, who played the prostitute Grace Lamennais befriended by Armstrong, turned in a performance steeped not only in sensuality, but also in regret, guilt and the love of her infant daughter, Jasmine. Jackie Earle Haley, as the evil Judge Leander Perry trying to silence the knowledge of his illegitimate child with Grace as to not derail his candidacy for governor, delivered a delightfully comic performance that paid homage to the early comedians of the silent screen era.

While the silent film will probably never make its way back into the public mainstream, Pritzker, Marsalis and company have made a very compelling case to both revisit and continue to reinvent this long-lost art of combining film and live music.
| | |
| --- | --- |
| Jackie Earle Haley as Judge Leander Perry | Steven and Derick Martini as Alex and Morris Karnofsky |
This review first appeared at www.concertlivewire.com -
click on the link to check them out!



Check out other recent concerts reviews and photos