Joel Moore


Jazz Showcase, Chicago, IL
Tuesday, July 6, 2010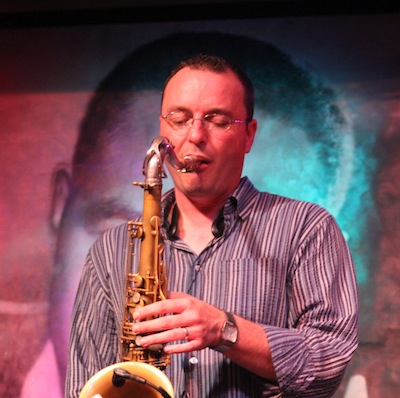 Joel Moore

Story and photos by Brad Walseth, Copyright 2010

Some of the far western burbs' finest jazz musicians invaded the Jazz Showcase Tuesday night, when the Joel Moore Quartet made a far too rare appearance in front of a great and appreciative weeknight crowd. Tenor saxophonist Moore, was joined by his usual band mates, pianist Paul Scherer, bassist Bob Ferraris and drummer Paul Townsend. The quartet was augmented by the presence of percussionist Terry Peeples and trumpeter/flugelhorn player Bob Case. This talented group put on an exciting performance for the audience - with songs ranging from covers of Cedar Walton, Horace Silver ("Song for my Father"), Wayne Shorter ("Ana Maria"), Chick Corea ("Spain"), a nice take on "Easy Living," a Moore Quartet original ("Fireside") and Coltrane's ballad "Central Park West" - which featured some of Moore's best playing.

Scherer (already receiving top-40 jazz radio airplay with his work with singer Agnieszka Iwanska), showed his impressive melodic skills on the grand piano, while bassist Ferraris kept the low end grooves coming with his energetic playing. Drummer Townsend combined with special guest percussionist Peeples to produce an exciting array of rhythmic sounds. Meanwhile, Bob Case was a pleasant surprise on the trumpet and flugelhorn - providing the perfect complement to Moore with his assured technique and full tone. The under-appreciated Moore should seriously consider keeping this expanded version of his group together and booking more gigs. Hope to catch these cats live again soon.
| | |
| --- | --- |
| Joel Moore | Joel Moore, Bob Case & Bob Ferraris |
| | |
| --- | --- |
| Paul Scherer | Bob Case |
| | |
| --- | --- |
| Terry Peeples | Paul Townsend |
Joel Moore live at the Jazz Showcase
Check out other recent concerts reviews and photos