Jeremy Pelt


Jazz Showcase, Chicago, IL
Sunday May 2, 2010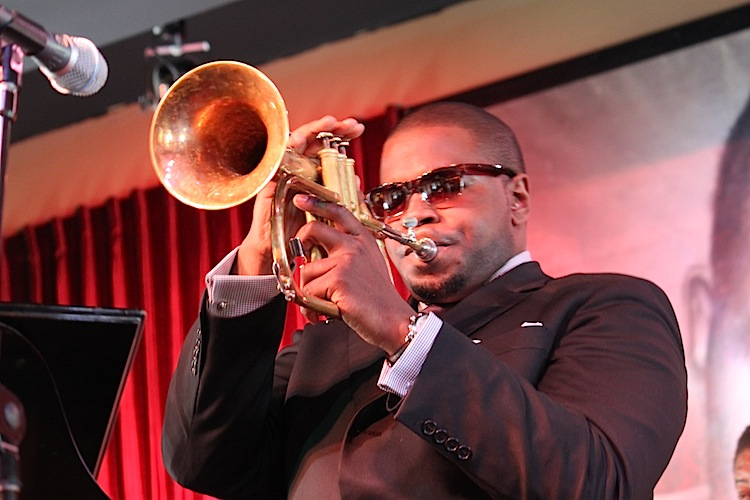 Jeremy Pelt

Story and photos by Brad Walseth, Copyright 2010

Young trumpet star Jeremy Pelt recently made a Thursday-through-Sunday appearance with his quintet at Chicago's Jazz Showcase in support of their new album - Men of Honor. At the Sunday matinee, Pelt and his combo started things off with "Clairvoyant" from the their 2008 release November. This lightly swinging piece gave bassist Dwayne Burno an opportunity to take the first extended solo - and he showed himself to be a master of melodic innovation. Pelt and Burno were joined by excellent saxophonist J.D. Allen, pianist Danny Grissett and drummer Darrell Green (replacing Gerald Cleaver). This group - with the exception of Green (who is a highly talented and in-demand drummer in NYC), has been together and touring for years - and the experience gained as a touring band was apparent in their camaraderie and band interplay.

Although Pelt displayed his exceptional technique and full tone, he often gave way for the others to get their chances in the spotlight. He and his front-line counterpart Allen were blowing hot on Pelt's hard bop ode to his son - "Milo Hayward" - from Men of Honor. But Pelt is equally at home on a slower pace, and he picked up his flugelhorn for November's"Nephthys" and Michael Legrand's glowing ballad, "What Are You Doing the Rest of Your Life?"

The hard-bopping "Us/Them" engaged the crowd with its energy, before the band ended the session with pianist Grissett's lovely waltz "Without You" (both tracks from the new album). The care and effort that these world-class musicians gave to the presentation of these fine compositions was exemplary and made for a truly satisfying Sunday afternoon set which hopefully will make a positive impression on the many young people in the crowd.
| | |
| --- | --- |
| | J.D. Allen |
| | |
| --- | --- |
| | Darrell Green |
| | |
| --- | --- |
| Danny Grissett | Dwayne Burno |
Check out other recent concerts reviews and photos