Habib Koite and Bamada


Old Town School of Folk Music, Chicago, IL
March, 27, 2010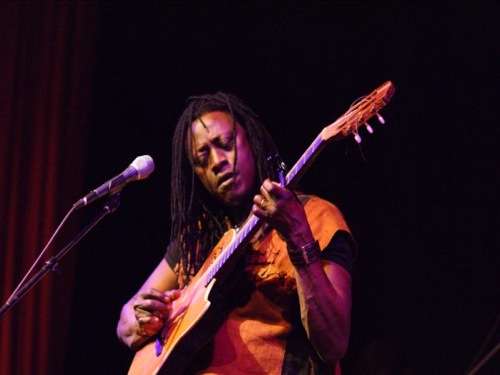 Habib Koite

Story & Photos by Phil Onofrio - Phil Onofrio Photography, Copyright 2010

Habib Koite melds rock, folk , with his Malian roots. A huge pop star in his native Mali, he began his set playing solo guitar for a gentle, decidedly folk-like series of songs. Bringing in his band, his connection to his Malian roots was apparent and the energy escalated. His electric guitar is tuned to an African pentatonic scale. Other Instrumentalists in his band play traditional instruments: balafon, (xylophone-like), kora, (stringed instrument with a halved-gourd base), and talking drum; all seamlessly blend with a decidedly Western mix of harmonica, electric guitars and bass, and drum kit. Quite an interesting stew!

Habib takes the mix even further by singing in three different languages, English, French, and Bambara. His music and the passion in his voice communicated when words could not be understood. He is recognized and respected by icons in American music such as Bonnie Raitt who featured Koite on her CD Silver Lining. As is often the case at Old Town Concerts, room was left for dancing and the crowd took to the floor.
Check out other recent concerts reviews and photos