Story by Brad Walseth, Copyright 2010
file photos

Music lovers were in for a treat on a beautiful summer evening at Ravinia Thursday night as two of the finest jazz guitarists in the world performed on the pavilion stage. George Benson has appeared five previous times at this lovely outdoor festival on the North Shore, but surprisingly it was a first appearance for West Coast-based veteran Lee Ritenour - aka "Captain Fingers." Equally confounding is the fact that accompanying Ritenour was multiple Grammy and Oscar Award winner, pianist Dave Grusin, who was making his Ravinia debut.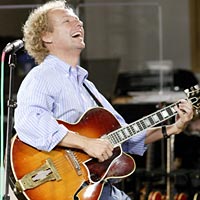 The evening started off with the low rumble of Melvin Lee Davis' seven-string bass and the snap of Joel Rosenblatt's snare as this world-class rhythm section set the stage for Grusin and Ritenour to slip quietly and unpretentiously into position. Ritenour is riding high on the wave generated by his recently released album, Six-String Theory - which brought together 20 of the world's best guitarists on one recording (see our review of this excellent release here), and the guitarist was all smiles as he ripped through some blazing riffs to open the show. Switching over to his trademark arch-top Gibson, while Grusin slid over to his Yamaha synth for some electric piano, the band settled into a low down funky groove. Ritenour's solo showed his mastery of the entire fretboard - as he worked his fingers rapidly from the lowest to the highest notes with speed and dexterity, while also employing octav runs, not unlike the headliner Benson.
Despite Ritenour's impressive guitar work, the artist remained as humble as ever and allowed his fellow band members plenty of spotlight opportunities. Bassist Davis was up next - singing along with his fast guitar-like bass riffs, while Ritenour strummed and thumbed along on this simmering number, which also featured a bluesy Grusin solo.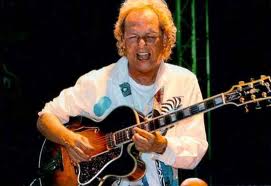 Ritenour - perhaps best known as a founder of the groundbreaking smooth jazz group - Fourplay, has released over 40 albums as a leader, including a number of "Twist of..." albums - such as A Twist of Jobim and A Twist of Motown - where he explores West Coast jazz versions of songs from that artist or genre. Switching to his sunburst Les Paul, Ritenour took the band into a version of "Get Up, Stand Up" from his "A Twist of (Bob) Marley" album. The smoothed-out take - with vocals from Davis, on this fiery anthem was pleasant enough, but lacked the fire and passion of the original. More successful was "Lay it Down" - from Six-String Theory - where Ritenour played both his parts and those of John Scofield (who appears on the original). Fast polyrhythmic runs, Scofield-like bluesy licks and nasty slide guitar enhanced this rocking number - that was musically one of the highlights of the opening set.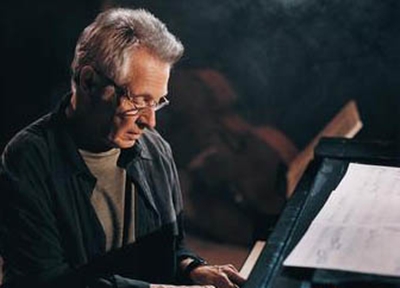 The gentlemanly Grusin is one of the most beloved and prolific soundtrack/theme song composers ever known - whose work is familiar to nearly everyone, perhaps without them even realizing it. He has written everything from the theme to the television show St. Elsewhere to music for David Lynch's Mullholland Drive ( you'll have to check his Wikipedia site for a complete list of television and movie work he's done as he doesn't have a Web site - a fact jokingly alluded to by Ritenour during the set), while also recorded many albums of straight ahead jazz. For his solo spot, he chose to perform his popular theme from the movie Tootsie - "It Might be You" - which reminded everyone what a master Grusin is with a melody.
Grusin's folksy "Mountain Dance" followed and had everyone clapping along, before it turned into burning jazz middle section with some killer walking bass by Davis. Grusin's acoustic piano solo integrated elements of everything from Tin Pan Alley to classical in pleasing fashion.
Ritenour and crew ended their segment with showy number that featured Davis on wah-wah bass trading licks with Ritenour, and the obligatory drum solo. More entertaining than musical, it nonetheless, pleased the crowd - who gave the performers a standing ovation - and set the stage for George Benson to follow.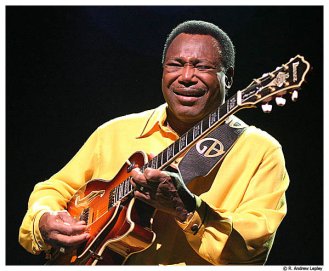 Much to the delight of the crowd - which was enjoying a delicious break in the hot weather we have been experiencing in the Chicago area - including a tantalizing lake breeze, Benson opened up with "Breezin'" - one of his most popular numbers. Benson was backed by talented guitarist/vocalist Michael O'Neill, bassist Stanley Banks, drummer Teddy Campbell, keyboardist Thom Hall and keyboardist/Music Director David Garfield. Benson stroked his guitar strings to produce the lines everyone knew so well - making the familiar riffs seem so easy. If Benson was bored by playing the same lines he's been playing since the '70s, he did his best to hide it, but it seems clear that his passion has been captured by his singing these days, as indicated by the exuberance with which he launched into his vocals on "Nature Boy."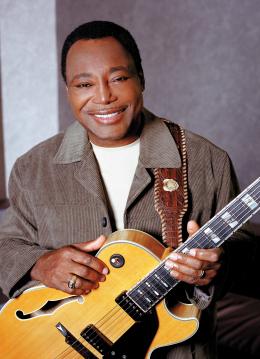 Many in the audience were there for George the entertainer, and they screamed in delight as the band slipped into the silky smooth pop hit - Love Times Love (from Give Me the Night). The audience was singing along joyfully on this song, which featured great backing vocals and rhythm guitar from O'Neill - who for two decades has taken the role once played by Phil Upchurch as Benson shadow guitarist.
Benson put down the guitar for the song "Nothing's Gonna Change my Love" - a hit for Hawaiian singer Glenn Medeiros that Benson originally recorded in 1984 (on his 20/20 album). The ladies in the audience swooning, Benson and band dove directly into "Turn Your Love Around" (an unlikely hit written as a filler song for George Benson's Greatest Hits album by guitarist Jay Graydon while he was sitting on the toilet - but that is another story). Benson picked up his gold Ibanez for some more riffing - at one point, throwing in a couple bars of "I Got Rhythm," while Garfield also showed some fine chops on an acoustic piano solo.
After this instrumental break, Benson the singer resurfaced with James Taylor's Don't Let Me Be Lonely Tonight (from his current release Songs and Stories) - which again garnered applause for his soulful rendition. This was followed by Benson's version of "Beyond the Sea" with more of the unison guitar and voice lines Benson is known for.
A tropical flavored instrumental led into "This Masquerade" - the Leon Russell tune that made Benson into a star - while also beginning the transformation from straight-ahead jazz guitar hero to popular R&B singer. Anyone who hears Benson's soulful take and is not moved is heartless - no matter how many times you've heard the song before.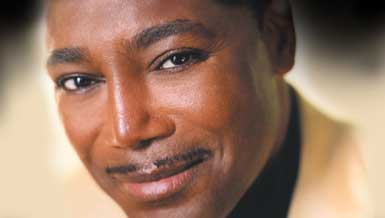 Urgent matters regrettably required this reviewer to make his departure with "This Masquerade" still ringing in the air, but I am told Benson hits "Give Me the Night" and "On Broadway" were dutifully performed. Although I personally would have preferred more of Benson the instrumentalist, it is plain that his fans demand Benson to sing, and it truly seems that is where his heart lies. As it was, he still showed plenty of the guitar work that once had him considered by many to be the greatest jazz guitarist in the world - so I'm pretty sure most who attended left the park satisfied by the concert and the cool summer breeze.