Club Seen!
Dudley Owens Quartet


Andy's, Chicago,IL
Friday May 1, 2010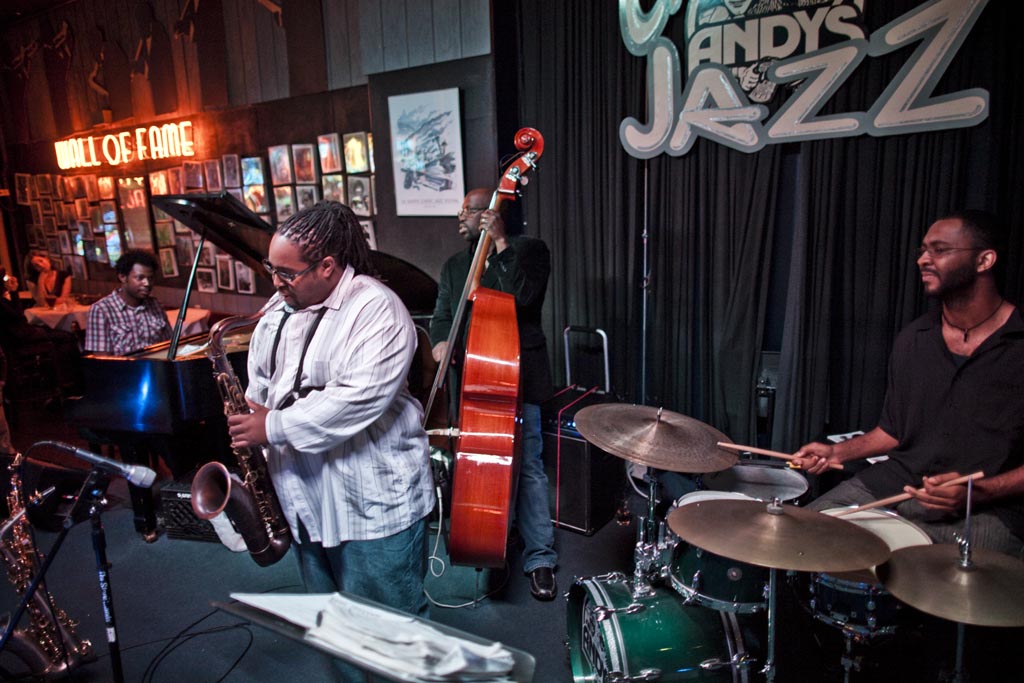 Dudley Owens Quartet

Story by Brad Walseth,
Photos by John Broughton, Copyright 2010

Up-and-coming young saxophonist Dudley Owens brought his fine quartet to Andys last weekend and we had the pleasure of stopping by to hear some from this talented ensemble. Owens has a big brawny and gritty sound - especially on tenor, but can also play the heck a ballad with quiet emotion. Accompanied by stellar young musicians - Justin Dillard on piano, Cliff Wallace on drums and Brandon Meeks on bass, the music ranged from post-bop jazz to blues to funk to classically-inspited to calypso to balladic - with some of the material coming from Owens' strong debut album - Just the Beginning.

The epic "Rootz" was one such example. This compelling number features a Trane-inspired soprano and tenor forays, undulating rhythmic propulsion and rolling waves of piano. Both Owens and young piano superstar Dillard shone brightly with their impressive efforts on this track which sound like it could be from Coltrane's Africa/Brass Sessions album. The funky "Dotty Marie" was also crowd pleaser, while the delicious ballad - "Prayer" was dedicated to Owen's 3-month premature nephew born that day. Owens' playing was filled with heart-felt emotion on this number.

Meeks and Wallace are an outstanding rhythm section, and Dillard opened eyes with his exceptional work on the keys. Owens deserves credit for his fine playing, and songwriting and also for his choices in band mates. This outfit is tight and feed off each other's creativity well. Owens also leads the weekend late night jams at the Jazz Showcase and I would suggest that you try to catch him either in that setting or with his quartet.


| | | |
| --- | --- | --- |
| Justin Dillard | Dudley Owens | Cliff Wallace |
Check out other recent concerts reviews and photos