Story by Brad Walseth

Acclaimed Panamanian-American Danilo Perez was the youngest member of the last edition of legendary trumpeter Dizzy Gillespie's United Nations Orchestra. For this tour - which pays tribute to his former bandleader, Perez assembled a band of young jazz superstars who rearranged some of Gillespie's best-known songs using post-modern harmonies. As Dizzy was an innovator who took the swing band music of the era into bop through new rhythms and advanced harmonies, I suspect he would have been pleased by the results.
Additionally, Gillespie was a major force behind the introduction of the Afro-Cuban element in Jazz and a strong believer - in part due to his Bahai faith - in multiculturalism. This band included Indian-American alto saxophonist Rudresh Mahanthappa, Iranian-American trumpeter Amir ElSaffar, Brazilian percussionist Rogerio Boccato, and Puerto Rican tenor saxophonist David Sanchez (also a Dizzy band alum) - along with bassist John Patitucci and drummer Adam Cruz. Besides their ethnic diversity, all are considered among the very best in the world on their instruments - and indeed, it was quite a sight to see this band start things off blowing hard on Dizzy's "Manteca."
This was not your father's version of that storied song, however. Newly arranged by Perez, the song was stretched to the limits with complex dissonances, startling tempo changes and a false ending. For those listeners thinking Perez may have "gone soft" after his last lushly orchestrated release with Claus Ogerman (Across the Crystal Sea), they needed have worried. The exuberant pianist bounced up and down in his set while tearing up the keys. Meanwhile, there were smiles all around as the players enjoyed each other's solo flights. ElSaffar and Mahanthappa wove intricate lines around each other, Perez took off on an extremely imaginative piano solo before Sanchez took over with one of the powerful solos he is noted for.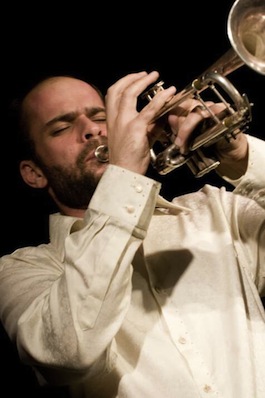 "Kush" - arranged by ElSaffar, followed. This exciting version offered modern harmonic coloring and raw, unabated squalling. Reinvented for the post-bop world, I'm pretty sure Dizzy would have at least approved of the energy level - as these performers threw their all into the music. The Sanchez-arranged "Algo Bueno" ("Woody n' You") arrived in a hail of percussion and offered great solos by ElSaffar on trumpet and Sanchez again with a strong solo. Mahanthappa then entered with the first of his solos and conjured Near Eastern-tinged sheets of sound out of his alto. His long unbroken strings of notes were followed by another angular solo by Perez. These players were definitely taking Dizzy's music into the 21st Century.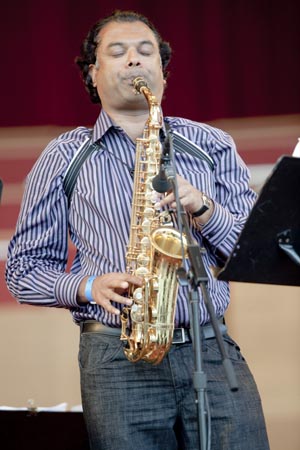 Mahanthappa's take on "Salt Peanuts" - (jokingly referred to by Perez as a curry-flavored "Nuts") was perhaps the most unexpected foray of the evening. Opening with the alto saxophonist and ElSaffar shredding at the same time (with talented percussionist Boccato adding an array of sounds) - the band soon kicked in on what was the culmination of this deconstruction of Dizzy's music. Featuring the three horns in unison lines suddenly breaking into a disjointed, but recognizable "salt peanut" pattern - this number was interesting, while maybe somewhat unsettling for any purists in the crowd.
Stripping down to a trio, in tribute to the recently departed Hank Jones, Perez showed he can play it "straight" as well. Patitucci's exquisite bowed bass was a highlight, as was when the song suddenly shifted into "Round Midnight" - complete with Sanchez strolling back onstage for a brilliant solo. Drummer Cruz's "Pinwheel" featured more advanced harmonies and a neat trick where the tenor would start a line, the alto would finish, while the trumpet played counter. Patitucci's jubilant African-flavored ostinato bass and Boccato on cajon, as well as another supercharged Mahanthappa solo were highlights of this number.
Perez and his multicultural crew have taken Dizzy Gillespie's music into our modern day world, and as exciting as the music was, I suspect many in the audience may have missed the old and more conventionally harmonious sounds. But of course, they did when Dizzy and Bird first rolled out BeBop too, so... maybe we witnessed the beginning of a while new sound.