Story and Photos by James Walker, Jr.

Spending time in the "Motherland" has always been an emotional and exciting experience and on this occasion, it was my first time visiting the "Other Africa",.....South Africa. My seventeen-day visit coincided with the 11th annual Cape Town Jazz Fest, and it was a memorable experience that I plan to repeat next year.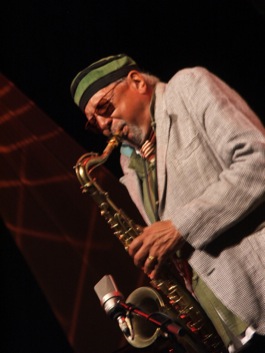 Thousands of jazz fans flocked to Cape Towns' International Convention Center Easter weekend to witness dozens of International and South African artists perform across five venues within this impressive Hall. Each day consisted of eight-plus hours of exhilarating sounds that left capacity crowds in a frenzy.
South African vocalist Judith Sephuma kicked off the "Kippies" main stage performance with a mixture of jazz, R&B, and gospel tinged sounds that really excited this standing room only crowd. She's a local favorite and had the audience responding back to her as she chanted in her native language. This was an excellent entree into this two day gala.
From there, I was off and running upstairs to the "Rosies" stage to see veteran multi-reedist Charles Lloyd and his exceptional "New Quartet" of drummer Eric Harland, bassist Reuben Rogers, and young veteran pianist Jason Moran. This set really was an event highlight with master Lloyd wowing the crowd from start to finish with vintage sounds, reminiscent of his glory days during the 60s and 70s. Moran's presence added to this exceptional set.
South African Marcus Wyatt and his "Language 12" was my next group to catch at still another stage, "Moses Molelekwa." I had no idea of what to expect as this was my first time viewing this 'Rock/Funk/Jazz" tinged aggregate. I was not disappointed as they "rocked" the house with a variety of sounds, complemented by the serious vocals of Siya Makuzeni.
My first day at the fest concluded back at the main stage where Cape Town native and internationally renowned vocalist/guitarist Jonathan Butler held court accompanied by his American colleagues, saxophonist Richard Elliot and trumpeter Rick Braun. The crowd loved Butler's rendition of "Smooth Jazz" selections along with "old school" South African numbers done in his native dialect. Butler's a crowd favorite no matter what part of the world he's performing in. Being home in Cape Town was very emotional and special for him.
Sultry South African vocalist Lira instantly heated up the audience on Day 2 on the main stage with a variety of Pop, R&B, and Jazzy numbers. This young phenom, attired in a beautiful multi-colored long dress had complete command of the audience from the moment she stepped on the stage. By the time she concluded her 90 minute set, the crowd was in a frenzy with her infectious and captivating styling. Ms. Lira needs to bring this act to the States for an extended tour. What a talented entertainer.
Lira was followed on the main stage by veteran American vocalist Rachelle Ferrell. Initially, she had difficulty with the sound system, but nevertheless, worked through a "sound check" while improvising with the audience. Not to many vocalist could have pulled that off but Rachelle didn't miss a beat as she eased into her set demonstrating her wide ranging abilities to scat, chirp and work out on the 88s. She's a pro and obviously loves what she does. She concluded her set with an extended "call and response" with drummer John Roberts that was electrifying as she worked the hell out of her time keeper.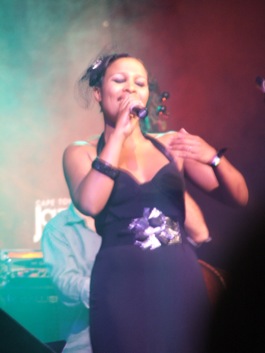 Perhaps my most pleasant surprise of the two days was the performance by songstress Melanie Schultz. She's a pure jazz vocalist with a sweet sultry instrument. Playing in front of a standing room only crowd in the spacious Molelekwa Room, she, along with her excellent band simply mesmerized the crowd with her artistic integrity and creative passion. This Cape Town classically trained stylist surely has a bright future and hopefully will be heard from in the USA. Special kudos also must be given to saxophonist Buddy Wells, who demonstrated in his cool style why he's considered one of South Africa's finest.
My evening concluded with the highly anticipated set by vocalist/guitarist George Benson at the main stage. I was barely able to snake up to the stage area as Benson was wowing the audience with some of his all time hits. Benson is as effective today as he was back in the 60s and 70s when he revolutionized jazz with his singing and playing. The combination of his velvet vocals with his fleet finger-work on the guitar created an electrifying performance.
A perfect conclusion to two days of phenomenon performances by forty two groups. There was something for everyone to enjoy. The organizers of this event are to be complemented and I'm already planning to return next year for the 12th annual gala that's staged at the tip of southern Africa, in what has to be one of the most beautiful world class cities.