Story and Photos by James Walker, Jr.

As the crowd assembled for the Chicago Jazz Philharmonic concert at the Auditorium Theater on March 11th the prevailing question of the night was: "Is it Jazz or is it Classical"?... Perhaps the answer to that question will be found within the text of this review.

Orbert Davis' Chicago Jazz Philharmonic (CJP) is a very unique ensemble that's staged in an orchestral setting,yet not always adhering to classical principles. The configuration included vocalists, a rhythm section, soloists, the Soul Children of Chicago Chorus in addition to a fifty piece classical orchestra. Actress T'Keyah Crystal Keymah, the orator, was the spoken word of Nelson Mandela during the "Hope in Action" Suite.

This program got off to a great start with saxophonist Ari Brown featured on Davis' composition of "Diaspora." Although this was a scripted piece, Brown was able to express himself by improvising during his extended solo. Brown was accompanied by University of Illinois, Chicago student Rajiv Halim Orozco.

The remainder of the first half was a tribute to the "song stylings of jazz innovators," Sarah Vaughn, Billie Holiday, and Ella Fitzgerald.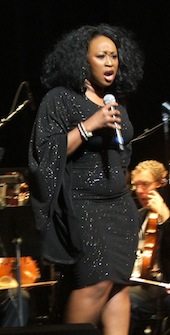 Versatile songstress Terisa Griffin wowed the crowd with her testimonial to Sarah Vaughn with "Great Day," "Have You Met Miss Jones," "Misty," "The Midnight Sun Will Never Set," and "I Got Rhythm." Terisa's rendition of "Misty" enabled her to demonstrate range and charisma. She was accompanied by the sweet sound of sax man Ari Brown. The audience loved this number and for those previously unfamiliar with Ms.Griffin left with a lasting impression.
Vocalist Maggie Brown was at her best as she paid homage to "Lady Day" with "Them There Eyes," "Good Morning Heartache," "Strange Fruit," "What A Little Moonlight" and "Fine and Mellow." Maggie was on point with Billie's signature song "Good Morning Heartache." Her theatrical background was quite evident as she expressed the number without committing musical sacrilege.
Chicago's reigning "queen of jazz," Dee Alexander completed the "jazz" portion of the program paying respect to legendary vocalist Ella Fitzgerald with "Relax Max," "Lady Be Good," "Nice Work If You Can Get It," "Embraceable You" and "It Don't Mean A Thing." Dee's scatting and patented chirping on "Don't Mean A Thing" absolutely was one of this special evening's highlights. She does this sooooo well and the crowd responded with a rousing ovation.
The first half came to a climatic conclusion with the "divas" "bringing the house down" on Count Basie's "Going To Chicago." Maggie stole the show when she strutted across the stage with sun glasses on to the delight of the crowd. One could easily tell that this trio was enjoying this moment.
"Hope for Action" began with alto saxophonist Ernest Dawkins taking lead on "Amagoduka." As the orchestra played, orator T"Keyah Crystal Keymah began telling Mandela's plight in South Africa as he realizes the need to organize in an attempt to fight against apartheid, even if it meant potential imprisonment. During the first movement, Ari Brown imposed his will with his noted deep bellow like sound with his tenor saxophone. This was followed by a solid solo by trumpeter Davis before the three horns men joined forces with a triumph sound.
As Keymah described Mandela's isolated life in prison, the orchestra performed "Nkosi Sikelel,Afrika", South Africa's National Anthem.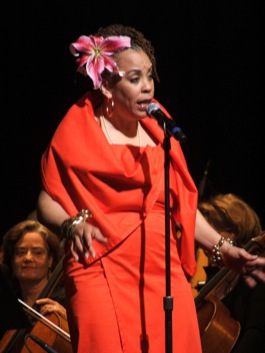 They were joined on stage by The Soul Children of Chicago Chorus. This movement was highlighted by drummer Ernie Adams and percussionists lively "call and response." Davis, Brown and Dawkins joined in on this well-orchestrated selection.
The Soul Children were very impressive during the fourth movement as they swayed and sang beautifully on "Siyahambia: We are Marching."
Throughout this entire segment of the program, Keymah's dramatic narration allowed one to actually visualize Mandela's struggles and triumphs. Of course, it was Davis' imagination and skill that enabled this unique suite to be successful. The coordination of chorus, orchestra, soloists, and rhythm section into one unit was expertly accomplished by one of Chicago's premier composer/performers.
In closing, the question of the day begs for an answer, "Is It Jazz or Classical." As witnessed by this listener, it was just an evening of damn good music that crossed several genres without the need of a label. Congratulations to Orbert Davis and his cast of hundreds on another successful orchestration by the Chicago Jazz Philharmonic.