Story and Photos by James Walker, Jr.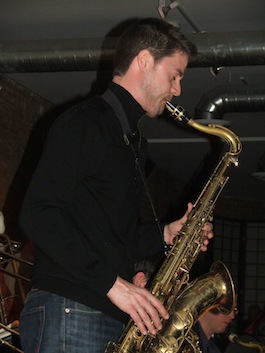 The Chicago Jazz Orchestra (CJO) continues to make an impressive impact in the Chicago area with their recent splash at the Hyde Park Jazz Society sponsored weekly set at Room 43 .This fifteen-piece. world class orchestra, led by Jeff Lindberg, played before another capacity crowd on March 15th. and did not disappoint during their first appearance at this ever increasing hot spot on the South Side.

The band wasted little time easing into their program as they played several standards highlighting many of the members before featuring vocalist Freida Lee. Selections performed during the first segment included Frank Fosters "Hey Jim," Count Basie's "Flight of the Coopers," Bobby Timmons "Moanin," Billy Strayhorn's "Chelsea Brit," and Duke Ellington's "A Train."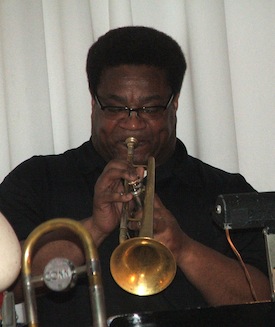 These well played classics featured the likes of trombonist Tracy Kirk, saxophonists Geof Bradfield, Scott Burns, keyboardist Greg Spero,and trumpeters Pharez Whitted and Doug Scharf.
Young Spero, appearing wih CJO for the first time recovered nicely on "Moanin" after misstepping on the initial notes. Lindberg restarted the number, and like a seasoned veteran, Spero dug deep with some solid playing on the electric organ. Whitted also had one of his many outstanding solos on this piece.
The highlight of the first set was the performance of songstress Freida Lee.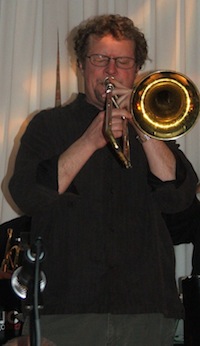 Sassy and classy as ever, Ms. Lee wowed the audience with "If You Believe Me," Joe Williams' "You Win," Quiet Nights," "Who Can I Turn To" and "Red Cross". Throughout her set, extended solos were rendered by Geof Bradfield on "If You Believe In Me," Scott Burns on "Who Can I Turn To" and Doug Scharf on "Red Cross." Ms.Lee's the consummate entertainer and knows how to captivate the attention of any audience.
The second set again consisted of classic jazz standards with saxophonists Bill Overton, Geof Bradfield and trombonist Tom Garling, displaying their skill with extended solos on "How High The Moon," while Garling, Scott Burns and Pharez Whitted took leads on "What's the Meaning Of This."
Freida Lee returned to the stage to close out the set with "Wicked Witch Is Dead" (featuring Bill Overton),"If You Could See Me Now," "Do I Do" and Count Basie's "Jumpin At The Woodside."
What a wonderful evening of "Big Band Jazz," reminiscent of the sounds of the ' 40s and '50s when jazz was dominated by the styling of big bands performing in night clubs throughout Chicago and other major American cities. This "old school" crowd was very appreciative of a "stroll down memory lane." The only thing that was missing was room for "ballroom" dancing.
Information pertaining to future Hyde Park Jazz Society events, refer to their website at www.hydeparkjazzsociety.org.