Story by Jean Timmons
file photos

On 23 April 2010, two very distinct groups performed at the Chicago Symphony Center and provided quite a contrast in their approaches to jazz, leading to a very invigorating program that will be easily remembered. Cohen, an Israeli noted for her work as a bandleader and clarinetist, brought to the Center a classic quartet and captivating jazz standards and Brazilian ballads. As the main attraction, Joshua Redman introduced a collaborative group of improvisers called James Farm. Anat launched the program and immediately settled the audience into an evening of commanding music.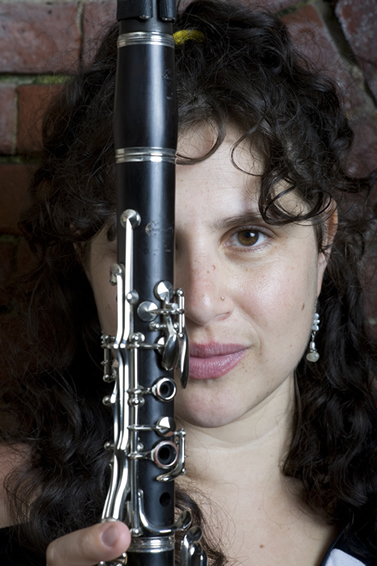 Anat Cohen plays clarinet as if born to play. Her quartet's playing was solid as well: Jason Lindner, on piano, Omar Avital, bass, and Obed Calvaire, on drums. The first piece was Fats Waller's happy-go-lucky "Jitterbug Waltz." Cohen and company imparted a nice Bossa nova sound mixed in with the waltz. While her musicians took their solos, Anat danced about on the stage, in a lovely, unobtrusive way that put the audience in a light and playful mood, certainly appreciative of the impressive drum/ bass duet, with the bassist alluding to "It Might as Well Be Spring," and of Anat as she signed off with a nice little clarinet wail at the end.
On many of Cohen's albums, she includes Brazilian choro music, as well as Argentine tango music, e.g., Nosso Tempo/Choro Ensemble and Poetica. This evening she included two Brazilian pieces. Both lent themselves well to her clarinet, and the ballad, "When Will My Longing End," was exquisite. The group concluded their set with a rousing "After You've Gone," which she has recorded on her latest album, Clarinetwork Live at the Village Vanguard. On this they picked up the tempo with Anat exploring the clarinet's range. With the pianist singing/humming along at some points, it was all great fun and quite a contrasting introduction to James Farm.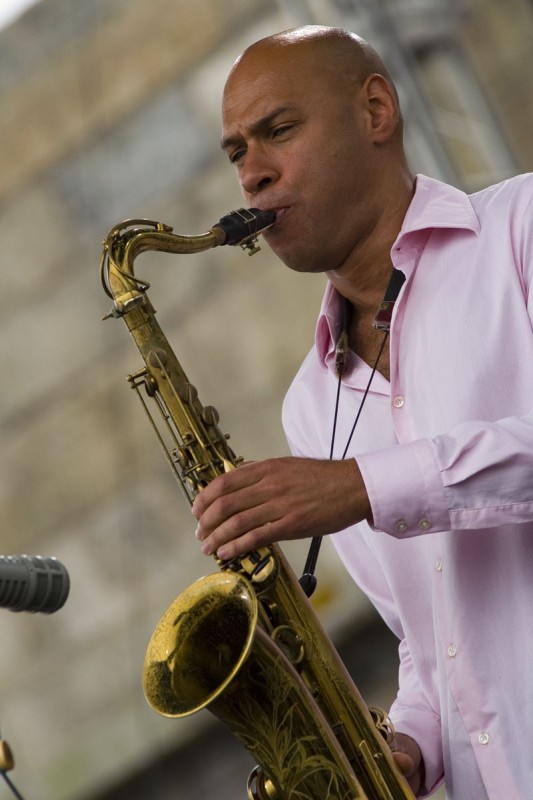 From the moment they took the stand, James Farm was an experience. Joshua Redman, tenor and soprano saxophonist, led the way, followed by Matt Penman, bass, Aaron Parks, piano, and Eric Harland, drums. But order is not important to this group. They epitomize collaboration. According to Penman's program note, James Farm is a "collaborative band" that "infuses traditional acoustic jazz quartet instrumentation with a progressive attitude and modern sound, creating music that is rhythmically and technically complex . . . melodically satisfying, and emotionally compelling." It's an apt description but one needed to be there to plumb the depth of those words. This is a group of very confident and serious musicians. Once settled in their places, they started playing and never stopped to identify the music or themselves or to plug recordings.
This lack of identification enveloped the music in mystery and compelled the listener's concentration on both music and musicians. It was constant anticipation. They played no standards, so I will refer to the works by number. Opus #1, a medium-paced piece, began with Redman sending forth a deeply melodic sound, emanating from a crouched stance as he tapped his foot in his buckled shoes. His control was apparent in the structure of his playing that built on a few chords. Control marked all their approaches as the program developed. For Opus #2 the pianist sets the pace with lines mingling with the polyrhythm set loose by the drummer. Each musician confidently developed his solo, and each improvisation was interesting. At this point, it became apparent that no one player, such as a leader, would take the lion's share of the playing time.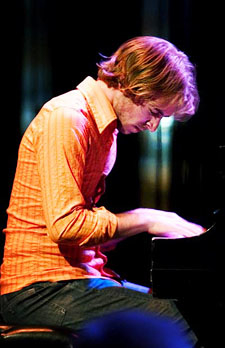 On Opus #3, the music opened with a drum roll, and then the bass dominated, pointing up the freedom of each of the musicians to take center stage.
The extraordinary role of the drummer in providing a variety of rhythms was constant and crucial. Opus #4 suggested classical music, with the piano steadily assuming more importance in the interplay among bass, piano, and drums, until Redman entered with his soprano saxophone to contribute a soft, ethereal jazz quality. On Opus #5, Redman proceeded at a fast tempo as the drummer drove him to incredible changes. It seems Redman reached a place where everything was golden and the drummer grew so intense that a piece of one of his sticks flew through the air. It seemed to even take him by surprise. Opus #6 started with Redman speaking through his soprano. It was not quite a ballad, for it picked up on the marching figure laid down by Harland. Then Penman, the strong bassist, took a solo that showcased his virtuosity. The design of the piece seemed to be featured over the playing, ending with solo piano that built, reminiscent of a bolero, until Joshua's return. At its conclusion that remarkable drummer comes back and just sings.
After the applause diminished, Redman briefly introduced the musicians of James Farm, bringing to a close an utterly fascinating performance.