Photos by Brad Walseth
This week the stage at the wonderful Dusty Nellie's nightclub in Palatine was graced by the Chad Wackerman Trio with the famed drummer (Frank Zappa, James Taylor, John Pattituci, Joe Sample, etc...) and six-string bassist Ernest Tibbs (Phil Upchurch) joined by legendary guitarist Allan Holdsworth, for the benefit of the extremely pleased fans attending this exclusive event.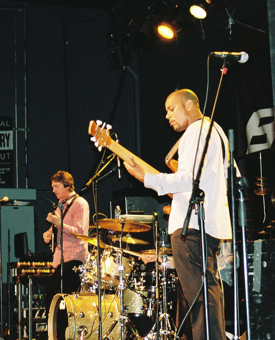 This concert event was presented by The Drum Pad, a drum and percussion superstore in this western suburb, which boasts the largest percussion inventory in the country, in conjunction with a drum clinic with Wackerman.
Wackerman is a much-in-demand drummer, who combines grace, power, precision and intelligence in his playing. He took a couple solo spots and had the crowd, many of whom were drummers themselves enthralled with his creativity and technical ability. Bassist Tibbs proved a worthy member of the trio, navigating the extremely difficult compositions (mostly penned by Holdsworth), while showing a deft touch on his melodic solo showcases.
These two world class musicians are among the very best in their field, making it sheer delight for music lovers in the audience. And to make matters even more exhilarating they were performing with the man many (myself included) consider the greatest jazz fusion guitarist in the world.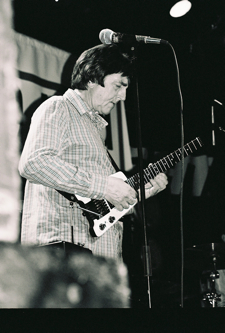 Unfairly overlooked by the general public because he doesn't dumb it down to pander to the commercial interests, Holdsworth has gained a reputation with some critics as being a sterile technician who doesn't play with emotion. As one who saw him play Wednesday night, I disagree entirely with this ill-formed assumption. Between intense, jaw-dropping shredding (I wish I would have taken a picture of the entranced faces in the crowd watching this magician at work) and moments of sheer shimmering beauty that were heartfelt enough to nearly bring tears to a listener's eyes, Holdsworth's playing was simply overflowing with emotion. And despite the nearly unbelievable level of his technique, you could sense the joy he feels in expressing his spiritual being through his axe. Even his bandmates looked on in awe as he divined his lightning appreciating that they were in the presence of extreme virtuosity.
It is one of the great injustices of the world that the trio was not featured on one the main stages in Chicago (not to slight Durty Nellie's - the sound and lighting at this great venue are noteworthy), but a player of the greatness of Holdsworth deserves a spot in the Chicago or Harris Theaters or on the main stage at Jazz Fest. At least for the lucky fans at these shows, Mr. Holdsworth, Mr. Wackerman and Mr. Tibbs gave them a memorable performance that won't be forgotten.