Club Seen! - Sam Burckhardt Quartet


Andy's Jazz Club, Chicago, IL
Friday August 14, 2009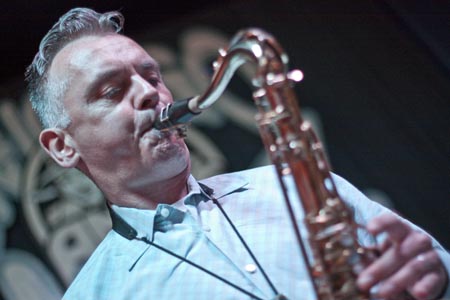 Sam Burckhardt
Story by Brad Walseth
Photos by John Broughton

Caught saxophonist Sam Burckhardt again the other night at Andy's. This fantastic player is well-known in blues circles worldwide, and was a founding member of Chicago's own Mighty Blue Kings, but he plays also plays jazz like nobody's business, while possessing perhaps the sweetest saxophone tone in the city. Friday's set included Horace Silver and Billy Strayhorn (a Burckhardt specialty) as well as a beautiful Lester Young-inspired take of "I Don't Stand a Ghost of a Chance." Backed by bassist Jack Lara, drummer Andre Beasley and pianist Tommy Muellner, Burckhardt's playing was impeccable and quite lovely. Pianist Bob Dorough (who was appearing later in the evening at Pops for Champagne) sat in on a few numbers for an enjoyable evening. Sam was one of the very first artists I saw when I first started this site three years ago and he remains a favorite. I didn't have a camera with me that night, but thankfully John Broughton was with me to capture the evening!
Check out other recent concerts reviews and photos

Contact Brad Walseth and JazzChicago.net at bwalseth60@aol.com