Story and Photos by James Walker

There's something special about the exuberance of young performers and that was clearly demonstrated by the appearance of the Maurice Brown Effect at the Jazz Showcase on Thursday March 26 and Sunday March 29th, as they made their debut at this fabled Chicago Jazz club located in historic Dearborn Station in the South Loop.

"Mobetta" (Maurice) had previously played the Showcase as a sideman when it was located on Grand Avenue in Chicago, but this was very satisfying for him to lead this exceptional group of young musicians for eleven shows in his home town. There have only been a couple of Chicagoans to headline the big stage, with Mobetta's good friend, trumpeter Corey Wilkes being the first.
It was evident early on during this late set that this would not just be Mobetta's opportunity to "show off" before the home crowd, but truly an experience by the entire ensemble of "young Turks" to demonstrate to the Chicago audience that the future of jazz is in good hands. In addition to the leader, the quintet included bassist Soloman Dorsey, drummer Joe Blaxx, former Chicagoan Chris Rob at the piano and New Orleans native Derek Douget alongside Mobetta all night long on the tenor sax.
What a transformation to see this twenty-eight year old "veteran" leading his exceptional bandmates in performing compositions that he penned, while demonstrating his maestorial skills. Brown shared the stage throughout the evening, primarily with his horn mate Derek Douget. Douget and Brown often alternated extended solos, with both displaying occasional rapid-fire action. Not to be outdone, Whitney Young High School grad, Chris Rob (the senior citizen of the group at age 33) was on point on the 88s with extended solos and his nice, soft background touch during bursts from his colleagues. Chris, when not performing with Mobetta, fronts his own "hip-hop" jazz band in New York.
Much of the night's music consisted of selections that will appear on their forthcoming album, "Hip to Bop II, The Cycle of Love." One such number, "Misunderstood," afforded Chris, Derek and Maurice opportunities to express themselves on lengthy solos. Naturally, Mobetta was in perpetual motion, as he and his band mates blasted away. He is noted for his short, sharp repeated bursts, while rocking back and forth. Douget, on the other hand, simply stands erect at the mic, displaying his sound in a more relaxed manner. They complement each other beautifully.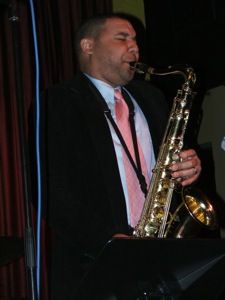 This listener especially enjoyed their rendition of Duke Ellington's classic, "In a Sentimental Mood." These cats do know how to "let up" and deliver a beautiful ballad. The version actually highlighted the horns and not just Rob on the piano, It was a different and quite lovely arrangement.
Rob had his finest moment on another new piece, "Daydream." It was on this number that Rob and Brown engaged in a friendly call and response. Mobetta was perhaps at his best on this song.
They closed out this set with another original, "Funk Hop," which appears on his "Soul'd U Out" CD. All the members blasted away, with Rob again running up and down the 88s with speed and grace. Bassist Dorsey and drummer Blaxx both got a piece of the action on this finale.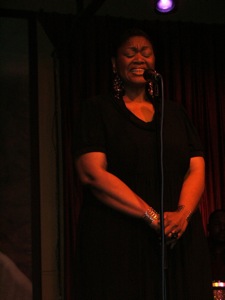 Even though this late night set was played before a sparse crowd, the Effect did not allow this to defer them from the job at hand, as they performed as if it was before a SRO crowd like the true professionals these young turks have become. As one observer was heard uttering as she left, "this was a kaleidoscope of music."
They closed out their five-day, eleven-set engagement on Sunday night with another outstanding performance. Most of the selections were similar to those on Thursday, with the exception of two songs, "Summertime" and "In a Sentimental Mood" performed by Maurice's special guest vocalist, Jennifer Graham. Maurice played with Jennifer last Fall during her spectacular show at the DuSable Museum.
The evening concluded with "Time-Tic-Toc" and "Merry Go Round," two "can't-miss" selections that will highlight the long-awaited new CD scheduled to be released this summer.