Maggie Brown


Room 43, Chicago,IL
July 12, 2009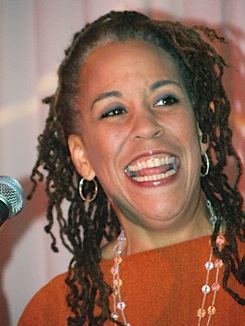 Maggie Brown
Story and Photos by James Walker

Bronzeville's 'favorite' daughter, Maggie Brown took center stage at the most recent edition of James Wagner's Hyde Park Jan Society's Sunday night soriee in its beautiful new surroundings at Room 43 east of Cottage Grove Ave on the South Side.

Taking much of her material from her legendary father's songbook (Oscar Brown, Jr.), Maggie was accompanied this evening ably by drummer Sean Scott, bassist Dexter Sims and keyboardist Shawn Wallace. Most of the music from the first set consisted of ballads, which gave Maggie an opportunity to tell stories about Oscar through his music. Oscar was such a great lyricist who often penned words to classic jazz pieces throughout his career.

One could easily recognize and feet his spirit as Maggie embraced each number with care and pride that also brought smites upon the faces of those assembled on this gorgeous summer night. This photojournalist takes special pleasure covering her sets because she's soooo expressive and photographs with the greatest of ease. That's of course in addition to the lovely delivery of each song as if it was her last.

Besides paying homage to Oscar, she never fails to recognize her mentor 'Aunt' Abbey(Lincoln). She talked about how nervous she was when in 1999, Abbey summoned her to New York to record "Caged Bird Song" In preparation for this gig, Maggie had to develop 'bird like' sounds that she heard in her Bronzeville neighborhood.

In addition to singing this Lincoln number, she also sang "Throw It Away" and "Wholey Earth" This was truly a crowd pleaser, as Maggie also shared with the audience the sad story of Abbey's poor health condition that has challenged her in recent months.

Another number receiving a thunderous ovation was Alan and Marilyn Bergman's "What Are You Doing The Rest Of Your Life" (made most famous by Sarah Vaughn). This appears to be new to her playlist and should become a permanent fixture. Maggie also did a little 'scatting' on "Birdland." Oscar and Maggie recorded a live CD several years ago at the now-defunct Hot House downtown, and she included "All Blues," "Memory Lane," "Fly High in July" and "Young Jazz" from that set during this engagement.

Maggie also paid tribute to her late brother 'Bobo' with her rendition of his song "Insight." Finally, Maggie did allow pianist Shawn Wallace one highlight moment as he had an excellent solo on "The Very Thought of You." Maggie did quip that she's 'stingy' when it comes to solos, but Shawn was solid all night and especially on this number.

Hyde Park Jazz Society has found a permanent home at Room 43 on the South Side, and next Sunday's set(7-l9-09} will feature vocalist, Al 'Low Note' Mack. For details regarding future events, refer to their website at www.hydeparkjazzsociety.org.


| | |
| --- | --- |
| Dexter Sims | |
| | |
| --- | --- |
| | Sean Scott |
| | |
| --- | --- |
| Shawn Wallace | |
Check out other recent concerts reviews and photos

Contact James Walker, Jr. and JazzChicago.net