Story by Jean Timmons


The buzz of expectation preceded tonight's concert, especially promising was Dave Holland performing with saxophonist Chris Potter, pianist Jason Moran, and the dynamic drummer Eric Harland as The Overtone Quartet. But before tonight's stellar quartet took the stage, the audience would be primed by a young, up-and-coming trio of musicians - Indian American Vijay Iyer on piano, Stephan Crump on electric bass, and Justin Brown on drums. It turned out that jazz music lovers were in for two outstanding performances.

Iyer, who holds degrees in physics and has picked up a reputation for a cerebral approach to jazz, has a cool voice and easy way of moving about a stage. Introducing the members of his trio, he exuded confidence and that aura surrounded him throughout the performance. Like the cat that swallowed the canary, he was one up on us - he knew what to expect. And, in spite of the unwelcome discovery of a broken high G string on the acoustic bass, which forced Crump to perform for the evening on only three strings, the group was not deterred from its duties.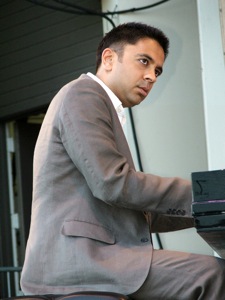 On the opening piece, Iyer's playing may have reminded many listeners of Bill Evans, whom everyone digs, and before long that broken string was passe - and I knew that everything would be all right. Justin Brown began with brushes to compliment the sounds coming from the piano and was really nice, while Crump on bass took his time, finding his way with the instrument. The three musicians conveyed a deep feeling for each other that was rather classic. When the pianist changed tempo, the others followed him effortlessly.
They featured much of the music from the recent Vijay Iyer Trio cd, Historicity. The first selection performed this evening was "Helix," a ballad or lyrical poem, composed by Iyer. From the beginning, Iyer demonstrated his dexterity and command of the piano. His passion is surprisingly cool, the movements and the confidence. He's a pleasure to watch. The silences were powerful enough to initiate interpretation. Silencio. In this piece, the bass was excellent at filling in those brief silences.
Iyer's music does have qualities of chamber music; but his use of the drummer to supply syncopation (moreover, polyrhythm) keeps the music grounded in the jazz idiom. When the trio arrived at the third piece, one that Iyer announced as one "everyone should know" (an assumption that doesn't include me), bassist Crump was making his presence felt, at one point bringing out his bow like a rapier to complete a strong passage and bringing forth vocal audience appreciation while the drummer crescendos nicely for the piano. Especially impressive considering he was limited to three strings, a situation that forced the player into using unfamiliar patterns.
Iyer covered other musicians' songs but in his hands they were recreated. Two such notable pieces from Historicity that received the treatment tonight were Stevie Wonder's "Big Brother" and Andrew Hill's "Smoke Stack" The former was too abstract to recognize as a Stevie. For this piece, the lion share of sound came from the excellent Crump and the melodic drummer. Andrew Hill's "Smoke Stack" was sort of a free fall piece, i.e., no established melody.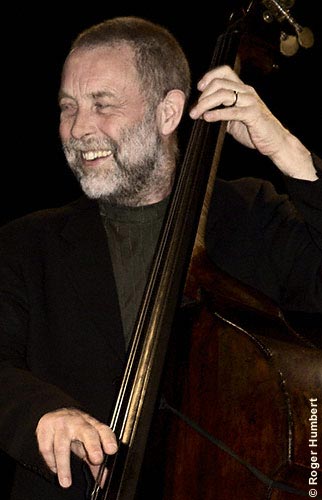 All musicians were working hard, with Iyer really into the intricate drum solo, which was impressive. The trio was impressive. It was a very satisfying, if long, opening set; and, after a lengthy intermission, the stage became the playground of The Overtone Quartet—again, Dave Holland on electric bass, Chris Potter on alto and soprano saxophones, Jason Moran on piano, and Eric Harland on drums.
In contrast to Iyer, Holland is an Englishman who has been around the block. He worked with Miles Davis around 1968 and before moving on played on a couple key Davis albums - In a Silent Way and Bitches Brew. After Miles, Holland worked with Chick Corea, Barry Altschul, and Anthony Braxton in a group called Circle. He's had a long and active career. I had always wanted to attend one of his concerts, to catch sight of the big rep that precedes him. But Holland seems the least likely of us mortals to be accused of hubris. His claim to the spotlight this evening was in introducing the music and playing accompaniment to a motley group of accomplished and idiosyncratic musicians.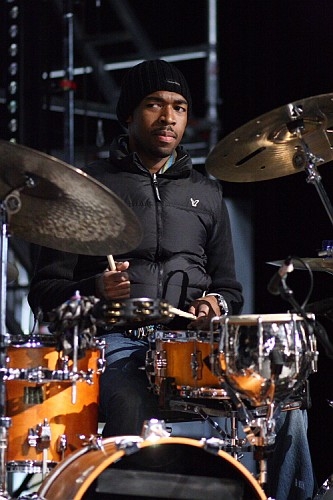 As for the quartet, from their appearances one had to identified them as very much individuals: Potter in jeans and a sports jacket; Moran in a brown porkpie hat, orange socks and, I imagine, brown suede shoes; and Eric Harland in shades, epitomizing the cool drummer tradition (Roach, Blakey, Haines). But when they played, they were harmonic.
The program featured the musicians' compositions, beginning with the Holland composition "Step to It." After Holland's introduction, Potter took over with his tenor sax. The group had a post bop sound with a very active piano. As for Harland, he is all rapid action, filling in all spaces. He was too much. But each musician carved his own space. Meanwhile, most of the while, Holland was laid back, constantly working, until finally Potter steps aside for the bass. Slowing his pace, Harland laid down a bridge for Holland and Moran switched to keyboard. When Harland took his solo, his nice offhand rhythm with the occasional power shot produced one of those super cool drum solos. After the Holland opener, the next selection was a Potter composition, "Sky," that opened with sax and piano, discreet percussion, and no bass. After the first few bars, drummer and bass entered. One of the highlights was Potter's turn with a soprano sax.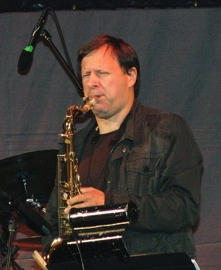 The other was the work of Jason Moran, proving to be quite inventive and technically fluent. The piece concluded with a few nice bass accents that paved the way for the next piece, something called "Walking the Walk," which, I imagine, is a reference to a bass move and was probably written by Holland. It's a piece that seemed to hold a steady bass line.
On the next two selections, the stage crew got a chance to get into the act. For Moran's "Gummy Moon," a piece with avant garde type leanings, the stage was bathed with orange lighting. It was a striking piece, with no discernible melody, really, although Moran liked it a lot (so did I) and the drummer was very brave. Potter, on soprano, added martial-like embellishments. For the next selection, the stage was flooded with blue-tinged lighting.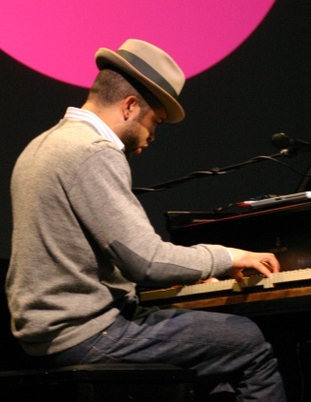 This piece was composed by Eric Harland and it was very dynamic, which reminded me of his excellent "Year of 2008" piece. That piece Harland brought to Symphony Center last year as part of the SF Collective performance. (Harland is still part of that group, which features Joe Lovano, Miguel Zenon, Renee Rosnes, Stefon Harris, and others.)
The final piece was a Potter composition, "Ask Me Why," on which Potter is working hard on tenor, raring back in his knees to string out long notes while Harland and Moran were quite at home with the speed of the piece. Holland held his own but was low key as usual. For the finale, Holland and Harland edged Moran into some very intricate playing until when it was Harland turn, who got lost in his own thunderous strokes. Holland was like - what is this? Well, bravo!