Story by Jean Timmons
Photos of Dee Dee Bridgewater at 2008 Jazz Fest by James Walker, Jr. and Brad Walseth, photo of Maggie Brown at the Checkerboard Lounge by James Walker, Jr., photo of Julian Priester at 2008 Jazz Fest by Brad Walseth, photos of Max Roach and Abbey Lincoln courtesy www.mazroachfans.com

As prelude to the main performance, Maggie Brown (vocals), along with Miguel de la Cerna (piano), Nicole Mitchell (flute), Junius Paul (bass), Kwame Steve Cobb (drums), Sylvia de la Cerna (violin) and Africa Brown (guest vocals), paid tribute to Oscar Brown Jr. Maggie is dedicated to reviving the music of her father. Their program was well paced and included a reasonable sampling of Brown's oeuvre. Then it was time for the main attraction -- a Max Roach composition with lyrics by Oscar Brown Jr.

At the beginning of 1960, Max Roach recorded his composition We Insist! Freedom Now Suite, which, as the title suggests, represented a political statement. It was apt for the time; but, atypical of much protest music, Roach's composition had appeal beyond the times because of its musical qualities. The recent performance at Symphony Center confirmed and extended that estimation of the work.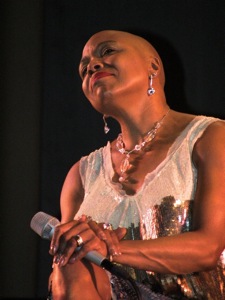 The exceptional drummer Lewis Nash took the Max Roach lead and the powerful jazz singer Dee Dee Bridgewater took on the Abbey Lincoln role. These two were supported by two of the original performers of the suite: Julian Priester (trombone) and Ray Mantilla (percussion). The other musical roles were filled by Ira Coleman (bass), Cecil Bridgewater (trumpet), Ron Bridgewater (saxophone), and Neil Clarke (percussion). At the onset, Nash announced that the five movements of the suite ("Driva Man;" "Freedom Day;" "Triptych: Prayer, Protest, Peace;" "All Africa;" and "Tears for Johannesburg") would be played straight through. And so they were.
Clarke initiated "Driva Man" by making music with various percussion instruments. He was soon joined by Dee Dee's strong vocal, which was hard, almost spoken. From beginning to end, Ms. Bridgewater would use her voice like an instrument, i.e., using sounds not words. Throughout, too, the structured development of the music united the performance. She carried the opening piece or served as a link to the introductory solos of the brass instruments. Nash was rather subdued but the percussion instrument was pounded on beat, as driven, while the bass was almost melodic. This piece built up the expectations of the audience. Very impressive music.
With enough variation to create a sharp contrast to the opening segment, Dee Dee delivered strong yet simple lyrics to initiate "Freedom Day" and was joined by trumpeter Cecil Bridgewater, who delivered an outstanding solo. Lewis Nashs accompaniment was outstanding as well. At this juncture, Mantillo joined the group, adding the conga drums. Trombonist Priester and saxophonist Ron Bridgewater both made solid contributions, and bassist Coleman was a wonder. He maintained the steady rhythm while Nash seemingly connected or shored up the movement of the piece. At any rate, all the instruments and the voice tended toward oneness.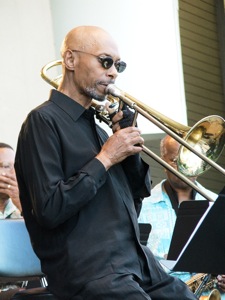 For "Triptych: Prayer, Protest, Peace," the brass players left the stage. The piece was practically a duet of Ms. Bridgewater and Lewis Nash. The piece had been verging toward all instrumental and here that tendency became reality with the wordless singing. Dee Dee started off with a rather gentle "chant," for want of a more exact characterization of what she was doing. But then, she launched into a scream, which highlighted the "Prayer" aspect of the first part. So, praying for deliverance was not working; therefore a hard protest was necessary. The voice in "Protest" was coarse and frightening, as if she were tearing her voice out. It was a chilling bit of music with drums accentuating this harsh awakening. Finally, the last part,"Peace," arrived and Priestess Bridgewater gradually drew within herself in voice and demeanor. This piece was very dramatic and well executed, as is the original recording of Max Roach and Abbey Lincoln.
"All Africa" took on a "call and response" structure; and the entire group returned to the stage to continue the suite. The piece began with vocal music that was answered by percussions and brass. This beginning was rather tame compared to "Triptych," but it led to a dynamic interplay between percussionist Mantillo and Clarke. At one point, Ms. Bridgewater broke into African-like dances. Finally Nash entered this drumming, which was far from cacophonous. All drums and bass and all invigorating would be a fair estimation. Unlike drum solos that one wants to end, this was so inventive that one was keen for further development. It ended with the audience buzzing.
While the audience still tingled from "All Africa," the group switched to "all jazz," as in expressive improvisational music. Coleman delivered a great bass solo to lead off "Tears for Johannesburg." He established a musical crying concept. Dee Dee entered with the percussions and her contribution to the concept was a wail to stir the heart. This idea continued with each brass instrument. Cecil produced nicely clear notes, with drums and bass pushing him along, his tears were so sad. Ron on tenor and Priester with trombone followed with improvisations that added to a pattern that was so satisfying, playing so fine. Could one expect tears from drums? Can the drums make tears? Yes. Nash did it. His music was unbelievable. Spirit of Max Roach.