Story and Photos by James Walker

The one aspect of "Saxman" Rick Parma that this writer really appreciates is that he really knows who he is and what his music is all about. Let there be no mistake, Rick Parma is the epitome of Smooth Jazz. His passion for this genre goes back to his early years growing up and listening to smooth jazz giants like Warren Hill, Richard Elliot, David Sanborn, Dave Koz and Kenny G. Rightfully so, he's unapologetic and unashamed about what he does best. He can bop with the best and indeed that's what he was doing at the Backroom on Rush Street, March 24th, as he and his bandmates were recording their first "Live" DVD.
Rick, fiery and energetic as ever, was joined on stage at this popular Jazz club by one of the hardest working bassists in Chicago, Mike Sterling, steady drummer Deameris Vaughn and keyboardist Derrick "Scooter" Amos, new to this writer. They initiated this set before a small, but very boisterous Monday night crowd, with long time Jazz favorite, Joseph Zawinul's "Mercy, Mercy Mercy" (made most famous by Cannonball Adderley). This was a very appropriate opening number, which immediately got the audience in a joyful mood. Both Mike Stirling and Scooter Amos were featured with long solos.

The band kept the audience "hyped" with Eddie Harris' "Cold Duck Time." It was during this number that Rick displayed the skills of each bandmate. Stirling was particularly impressive with his solo, using nice deep tones while keeping within the song's melody. The "Stylistics" ('70s popular R&B group)' "People Make the World Go Round" was very well done in the Richard Elliot mode. Elliot, one of Parma's favorites, recorded this number. Amos' background playing complemented Rick's high octave playing of this song.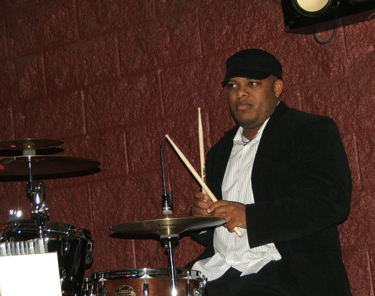 Rick is as proficient on mellow ballads as he is on hard bopping numbers. His tender touch on R&B's Maxwell's "Ascension" was a perfect example of this, as he wandered into the crowd, serenading some very excitable ladies who were present. Rick loves playing to and in the crowd. He seems to be energized by doing so.

The first show was appropriately concluded with the playing of Grover Washington's "Winelight." It would have almost been musical sacrilege had they not played a selection by Washington, one of the pioneers of contemporary jazz. Most smooth jazz saxophonists find a spot on their playlist to pay "homage" to one who was responsible for the popularity and growth of this genre.

This was a very enjoyable evening of smooth jazz being performed by a group of excellent Chicago musicians led by Saxman Rick Parma. Nothing spectacular, just good, old-fashioned music played at a high level. If this music moves you, and you don't want to wait for the release of the DVD, check out Rick at a venue near you. For details regarding Rick's schedule, refer to his Web site at www.rickparma.com.