Story and Photos by Brad Walseth



There was an Orange Alert at Andy's this last weekend, but there was nothing to be alarmed of, unless you have a fear of funk, a deep suspicion of grooves and an irrational hatred of music that combines jazz instrumentation, riffs and colors with funk and hip-hop, bass and drum-type rhythms, modern alt-pop and scratching turntables. Mastermind reedman and turntablist Carney led his talented band through a much too rare concert by the band that was filled with infectious grooves, experimental forays and lovely interludes that had the large crowd at Andy's applauding and cheering them on.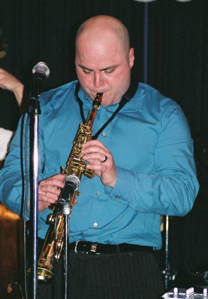 During the night, Carney proved himself an underappreciated talent on tenor and soprano sax, playing the intricate jazz lines and soloing lyrically while his turntable interjections added an extra touch of something new and different to the proceedings. The band was driven by solid drummer Sean Jelinek, who played the rhythms straight through most of the evening almost like a dependable machine, but exploded with energy on his well-played and crowd-pleasing solos. Bassist Kurt Schweitz is well known around Chicago as one of the true up and coming talents on both the acoustic and electric bass. Much in demand, Schweitz turned down a Green Mill appearance Friday night, because his bass lines are so integral to the overall sound of Orange Alert, and it was an absolute pleasure hearing this young man live again and so in sync with Jelinek in providing the groove underpinnings of the Orange Alert sound.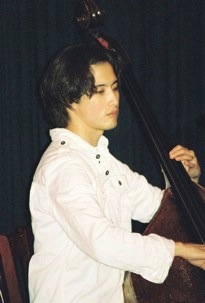 Guitarist Gary Tu is one of the best and most exciting young guitarists here in Chicago and this configuration seems to push him into new and highly satisfying directions. His blistering solo on the burning hot version of "Redline Groove" was one of the highlights of the evening and quite possibly the best solo I've heard this excellent guitarist play. Trumpter Marques Carroll (Chicago Afrobeat Project) was playing his first date with the band, but you would have never known it from the way he fit in. His unison playing with Carney was on target and his solos added sweetness and fire.

Orange Alert is a product of Carney's original vision, and there is something quite exciting about a locked-in rhythm section with horns and guitar playing in unison, and it recalls the classic Wayne Shorter-esque sound (albeit updated in the beat) and they did cover his "Adams Apple" nicely. Songs like the aforementioned "Redline Groove," the upbeat toe-tapper "Something's Gotta Give" and the funky breakdown "Turkey Leg" (from 2007's "Redline Groove") kept hearts racing, while the beautiful "Millenium Sunrise" (from the 2004 self-titled debut) and the delightful cover of Oasis' "Wonderwall" showed the band can play softly as well. New songs ("The Tollsipper" and "Red Zone") were also served up, along with an interesting and hypnotic computer-aided piece that showed the band is continuing to move forward. I was initially surprised not to see anyone on electric piano, as this is part of their signature sound on the recordings, but I found it wasn't missed during the evening.

My only complaint with Pete and his band is that we don't see more of them live in the Chicago area. All members are busy with other projects and endeavors, which makes the rare occurrence of a musical Orange Alert all the more welcome. I would suggest to Chicagoans that they take the opportunity when it occurs and check out Pete Carney and Orange Alert live or on CD.